Autres sites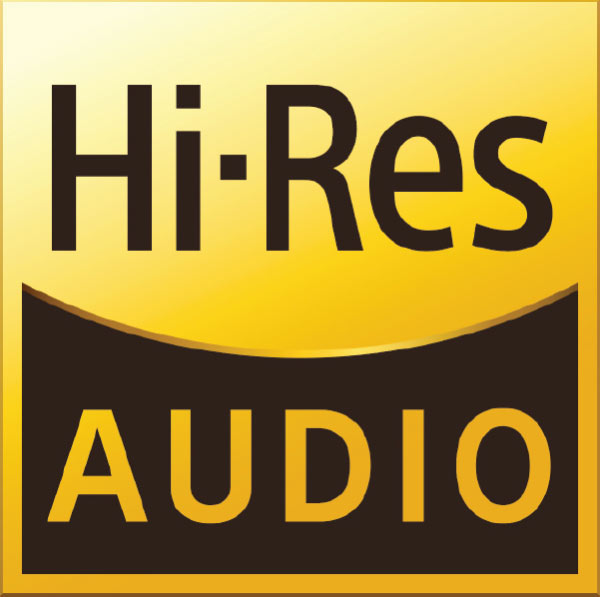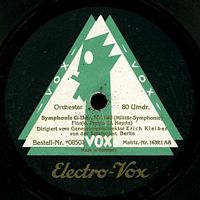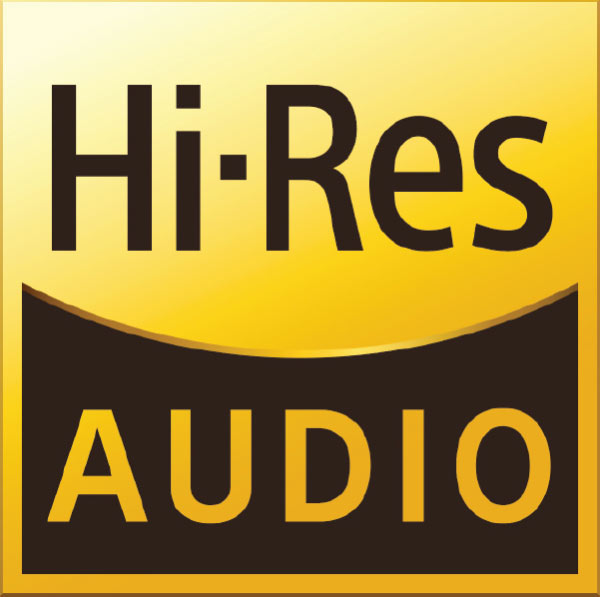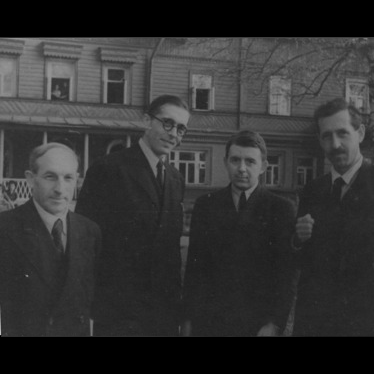 Paul Michael von Ganski's record club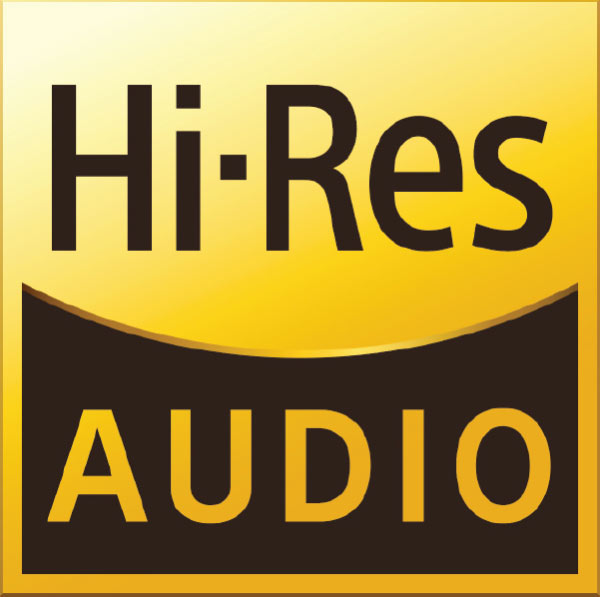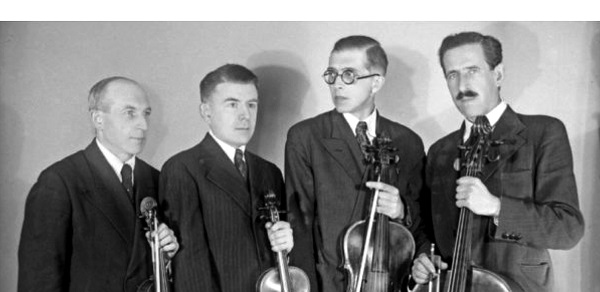 Quatuor Beethoven – III – Beethoven Quatuors n°2 Op.18 n°2 & n°13 Op. 130
Enregistrés le 4 novembre 1950 (Op.18 n°2) et les 11 & 22 mai 1951 (Op. 130)
Dmitry Tsyganov, violon I, Vassily Shirinsky, violon II, Vadim Borisovsky, alto et Sergei Shirinsky, violoncelle
English translation (downloadable pdf file) : click here
La politique d'enregistrement du Quatuor Beethoven est quelque peu paradoxale. Fondé en 1923, il lui a fallu attendre la fin des années soixante et l'année Beethoven pour enfin enregistrer l'intégrale des 17 Quatuors, qui est heureusement une belle réussite. Depuis 1964, la formation n'était plus celle d'origine et seuls le premier violon Dmitry Tsyganov et le violoncelliste Sergei Shirinsky y ont pris part.
La discographie établie par Dmitry Maksimov et Andrey Komech nous permet d'établir la liste des Quatuors de Beethoven qu'ils ont enregistrés entre 1931 et 1963 dans leur formation d'origine.
Sauf mention contraire, les enregistrements ont été réalisés sur bande magnétique. F indique un enregistrement sur film (piste sonore de film, technique équivalente à celle du « Sélénophone »), et « matrices 78t » un enregistrement d'origine en 78 tours.
Le label Mélodiya n'étant apparu qu'en 1964, les éditions antérieures à cette date, que l'on peut trouver sous plusieurs labels (comme ci-dessous pour le Quatuor n°2) sont dénommées « Pré-Mélodiya ».
Les Quatuors n°1 à 6 Opus 18:
N°1 Op.18 n°1: 9 décembre 1950 (inédit)
N°2 Op.18 n°2: 4 novembre 1950 « Pré-Mélodiya » D929-30 (1952) ; 4 décembre 1963 Frankfurt (inédit)
N°4 Op18 n°4: 20 avril 1937 (1er mvt) F; 29 & 30 octobre 1940 F; 4 août 1944 (1er mvt) F; 23 janvier 1951 (tous inédits); 13 mars 1960 « Live » CD Triton MECC 26023 (Japon-1995)
Les Quatuors n° 7 à 9 Op.59:
N°7 Op.59 n°1: 19 & 23 sept 1931 (1er mvt) « matrices 78t » (inédit); 29 mai 1938 F (inédit)
Les Quatuors n°10 à 17:
N°10 Op.74: 13 avril 1960 « Live » CD Triton MECC 26023 (Japon-1995); 4 décembre 1963 Frankfurt (inédit)
N°13 Op.130: 11 & 22 mai 1951 Chant du Monde LDX SP 8140 (France-1955) et « Pré-Mélodiya » D-8117-118 (1961); Kiev 18 avril 1959 (inédit)
N°14 Op.131: 27 décembre 1950, 13 & 23 janvier 1951 « Pré-Mélodiya » 20511-522 6 disques 78t. (1951); Kiev 18 avril 1959; Köln 3 décembre 1963 (inédits)
N°15 Op.132: 15 octobre 1947 Mouvements I à IV (inédit)
N°16 Op.135: 12 juin 1952 « Pré-Mélodiya » D8023-24 (1961) et Vogue CD VG 651027 Archives Soviétiques (France-1991)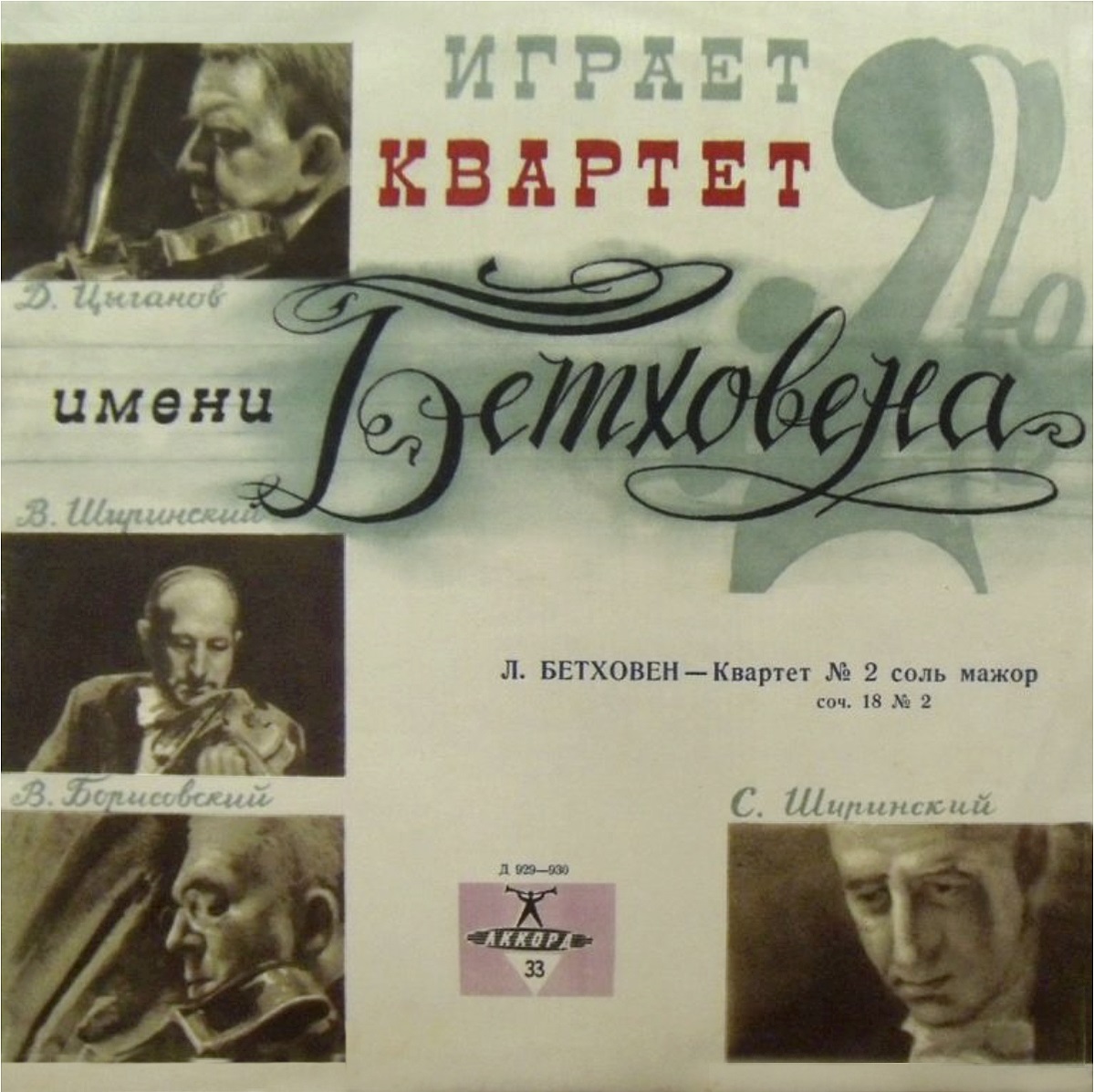 Le report du microsillon du 2ème Quatuor s'est avéré problématique. Il a été publié en 1952 sous étiquette rouge (D929-30) dans un pressage réalisé sur un matériau de qualité relativement médiocre, puis réédité dans les années soixante avec la même référence sous le label Akkord avec un bien meilleur pressage, mais malheureusement à partir des mêmes matrices. Il faut remarquer que la qualité des matrices de 1952 est également problématique et, pour les deux éditions, le son est limité dans les hautes fréquences et présente des distorsions. La qualité de l'interprétation justifie cette publication en dépit de ces limitations techniques.
Le disque Akkord est supérieur au précédent dans les mouvements I et II (face 1) et IV (face 2), mais par contre le début de la face 2 (mouvement III) est quasi-illisible. Par conséquent, le pressage d'origine de 1952 a été utilisé pour reporter le mouvement III (Scherzo).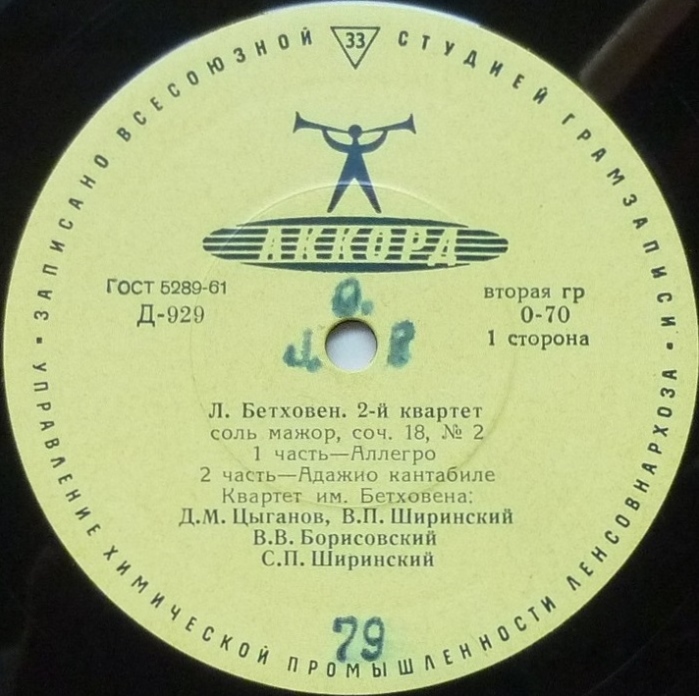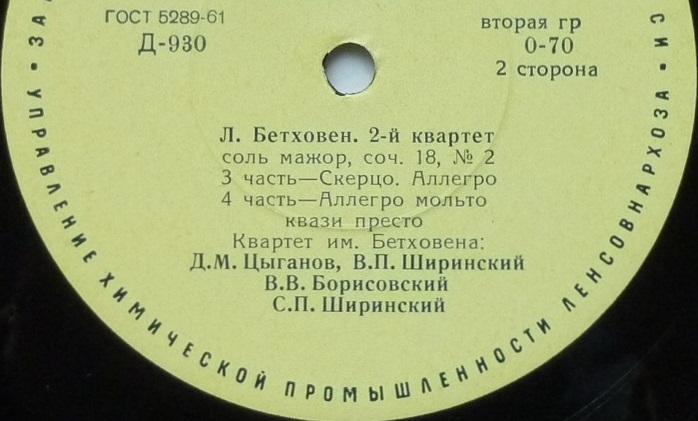 Ci-dessus :Beethoven Quatuor n°2 Op.18 n°2 (pressage Akkord). Ci-dessous: la face 2 du pressage d'origine.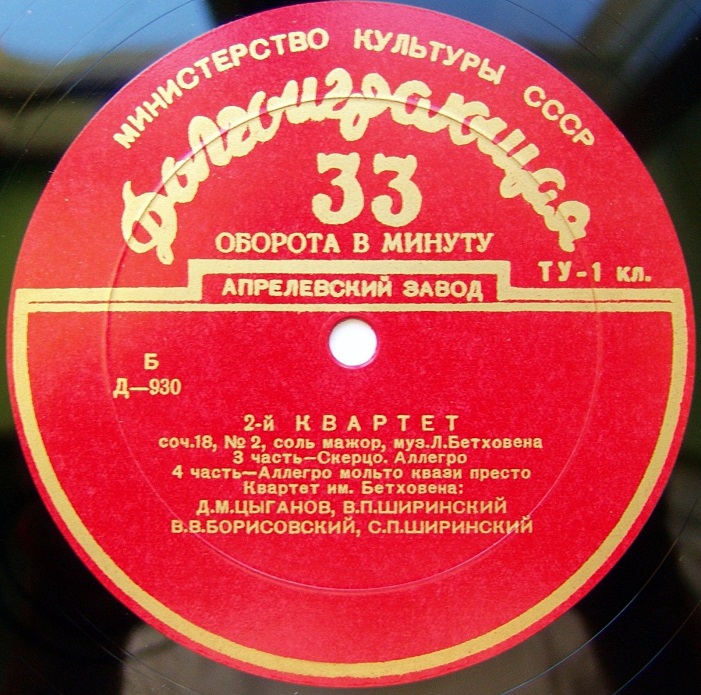 Le son du Quatuor n°13, enregistré quelques mois plus tard, mais publié pour la première fois en 1961 en version « Pré-Mélodiya » sous le label Akkord est très nettement supérieur.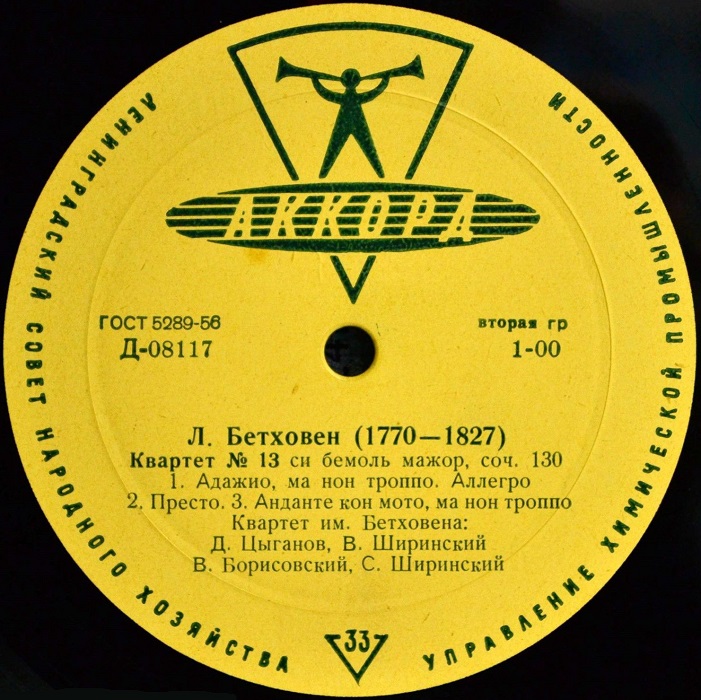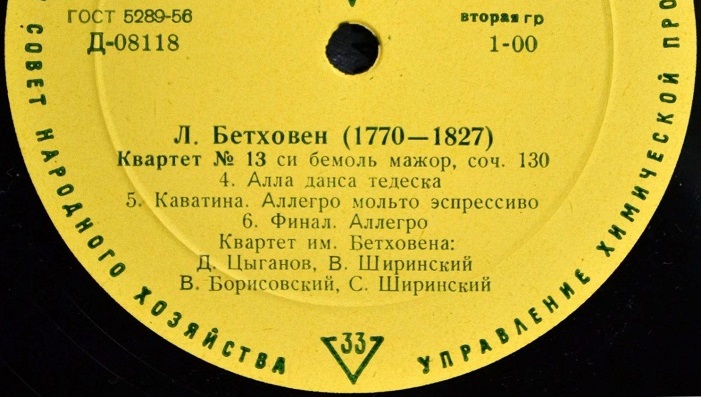 Beethoven Quatuor n°13 Op.130 (pressage Akkord)
________________
Les liens de téléchargement sont dans le premier commentaire. The download links are in the first comment.