Autres sites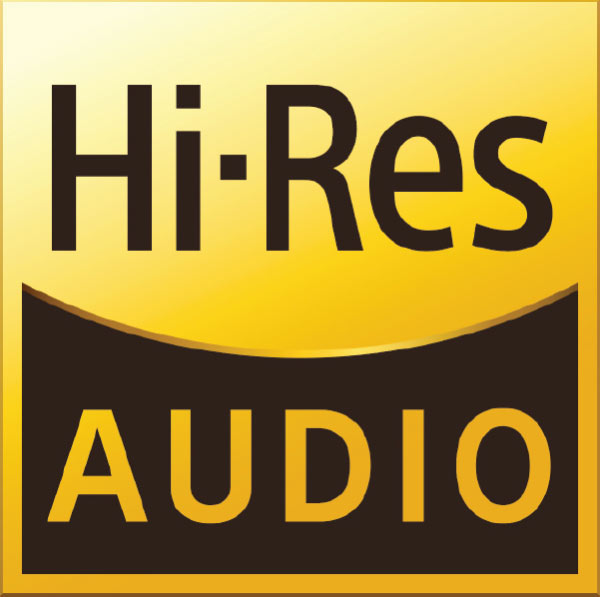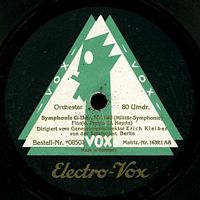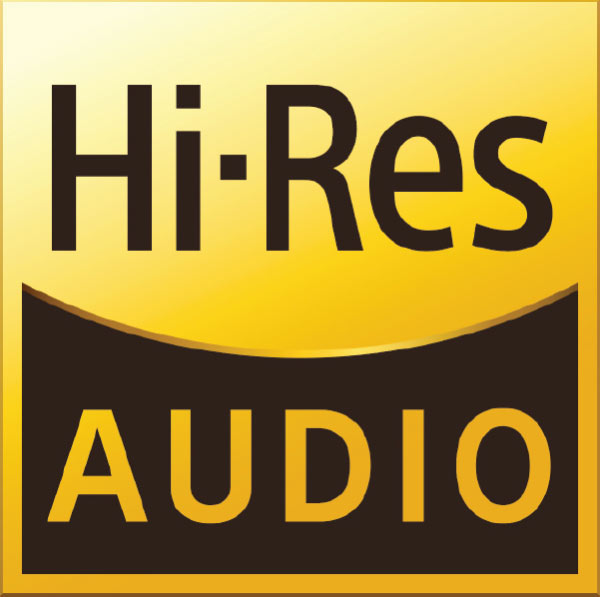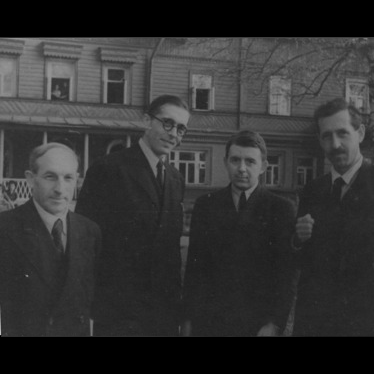 Paul Michael von Ganski's record club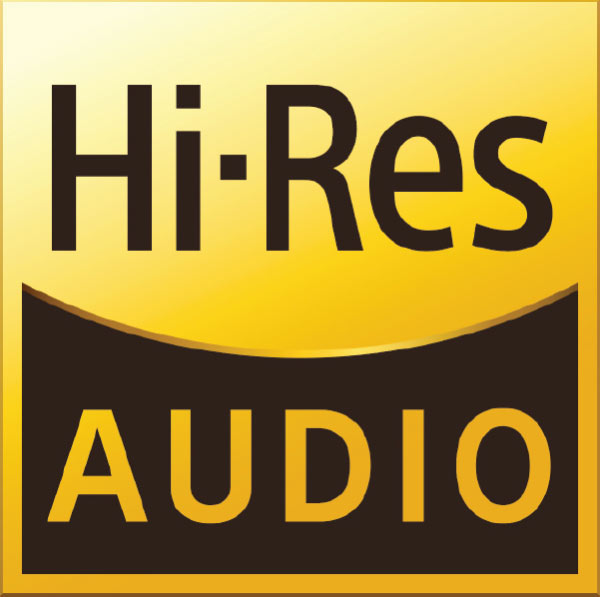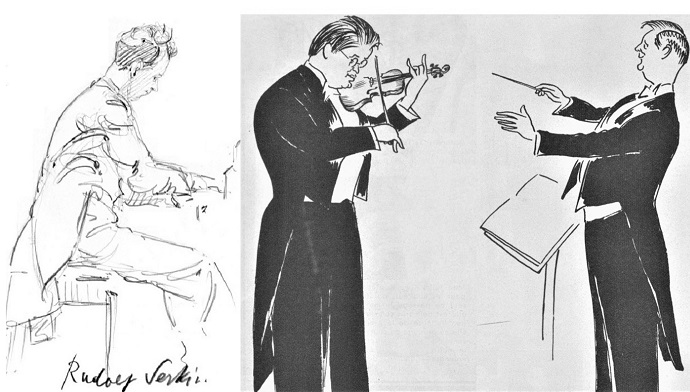 Bach Sonate n°1 BWV 1001: II Fuga – III Siciliana – IV Presto Adolf Busch, Violin – 18 January 1934
____________
Concerto n°2 BWV 1042: III Allegro assai Adolf Busch, Violin – 29 November 1934
Beethoven Concerto n°4 Op58: I Allegro moderato Rudolf Serkin, piano – 23 February 1933
Fritz Busch Radio Symfoniorkestret (Danish Radio Orchestra)
Source: Bande/Tape 15 ips
Ces enregistrements de la Radio Danoise montrent trop brièvement Adolf Busch et Rudolf Serkin sous la direction de Fritz Busch, et Adolf Busch en soliste dans une Sonate de Bach dont il manque malheureusement le premier mouvement. Dans le premier mouvement du concerto de Beethoven, Rudolf Serkin et Fritz Busch se montrent ici bien meilleurs que dans l'enregistrement de concert de Serkin avec Toscanini (NBC SO – 26 novembre 1944).
La Radio Danoise disposait de deux platines Neumann et de supports de gravure directe de très grande qualité, d'où un rendu sonore étonnant pour des captations radiophoniques en public du milieu années trente, dont les CD Danacord, beaucoup trop filtrés ne sont qu'un pâle reflet. Le caractère parcellaire des enregistrements conservés provient du fait que la Radio n'avait pas de possibilité contractuelle de réaliser des archives des concerts diffusés en direct. Ces brefs regards sur ces artistes en concert publics n'en sont que plus précieux.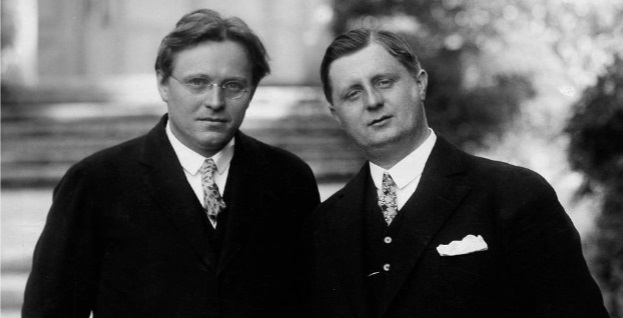 Adolf & Fritz Busch 1931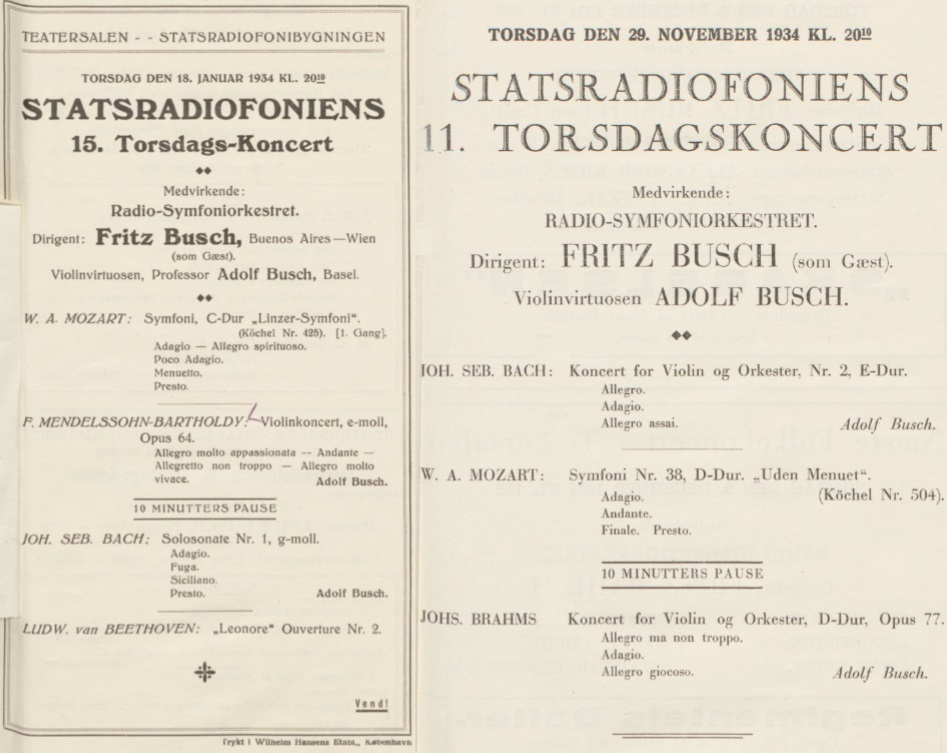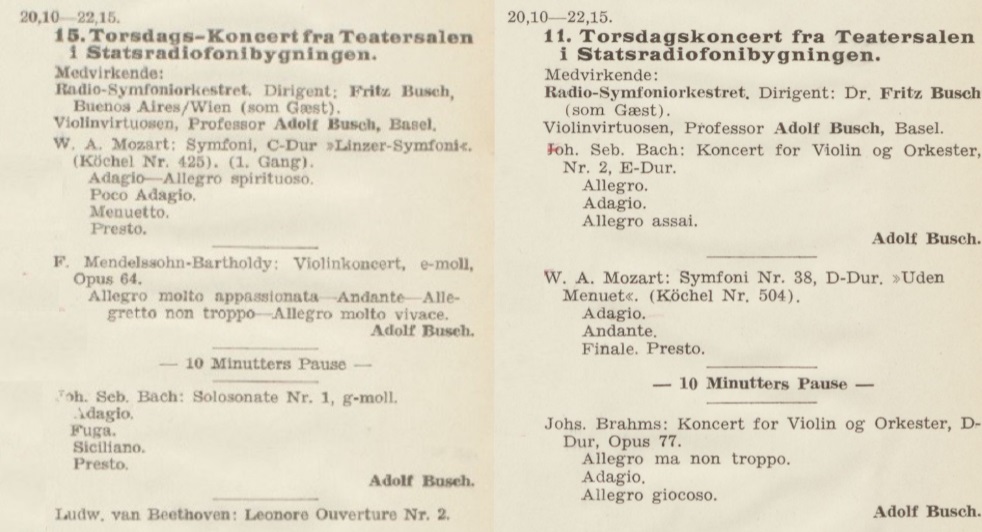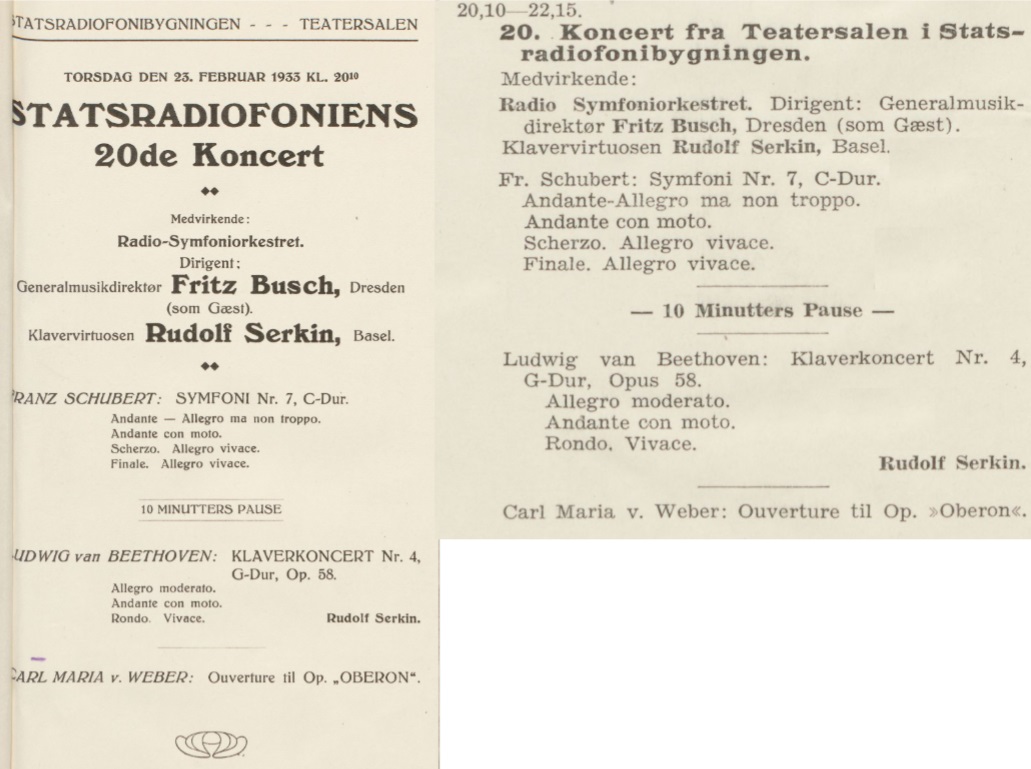 These Danish Radio recordings show Adolf Busch and Rudolf Serkin too briefly under the direction of Fritz Busch, and Adolf Busch as soloist in a Bach Sonata, the first movement of which is unfortunately missing. In the first movement of the  Beethoven concerto, Rudolf Serkin and Fritz Busch are much better than in Serkin's concert recording with Toscanini (NBC SO – 26 November 1944).
The Danish Radio had two Neumann turntables and very high quality direct recording media, resulting in an astonishing sound rendition for broadcast live recordings from the mid-thirties, of which the Danacord CDs, much too filtered, are only a pale reflection. The fragmentary nature of the preserved recordings comes from the fact that the Radio had no contractual possibility of making archives of the concerts broadcast live. These brief glimpses of these artists in public concerts are all the more precious.

Fritz Busch – Radio Symfoniorkestret Statsradiofoniens Kor
Orchestre et Chœurs de la Radio Danoise / Danish Radio Orchestra and Choir
Copenhagen Odd Fellow Palæet
Source: Bandes 38 cm/s / 15 ips Tapes
Haydn Die Schöpfung Hob. XXI:2 – Part II:
Erna Berger, soprano; Julius Patzak, tenor; Alexander Kipnis, Bass – 6 December 1934
n°14 'Und Gott sprach' & n°15 Arie 'Auf starkem Fittiche' Erna Berger
n°20 'Und Gott sprach' & n°21 'Gleich öffnet sich der Erde Schoss' Alexander Kipnis
n°23 'Und Gott schuf den Menschen' & n°24 Arie 'Mit Würd und Hoheit angetan' Julius Patzak
n°28 Chor 'Vollendet ist das grosse Werk'*
*inédit/never published before in any format
______________
Beethoven: Erika Rokyta, soprano; Ingeborg Steffensen, mezzo; Koloman von Pataky, tenor; Alexander Kipnis, bass
Missa Solemnis Op.123 Sanctus – 14 February 1935
Symphonie n°9 Op.125- IV Presto – Allegro assai – Presto – 12 April 1934**
** Report, Montage et  'Mastering' / Transfer, Editing and Mastering: Charles Eddi
Alexander Kipnis et Fritz Busch se sont produits ensemble à de nombreuses reprises, comme ici à la Radio Danoise, mais aussi au Teatro Colón de Buenos-Aires, notamment Strauss Rosenkavalier (Ochs), Wagner Fliegende Hollander (Daland), Lohengrin (Hermann) et Parsifal (Gurnemanz), à l'Opéra de Montevideo pour Wagner Walküre (Hunding), et brièvement au MET pour deux opéras de Wagner, Tristan und Isolde (Marke) et enfin Tannhäuser (Hermann) pour la dernière représentation en public d'un opéra par Kipnis le 6 mai 1946.
Au milieu des années trente, Kipnis était à son sommet, et ces enregistrements le montrent, dont le couronnement est sa participation véritablement historique à la Neuvième Symphonie de Beethoven, où il est bien meilleur qu'avec Toscanini (Teatro Colón 24 juillet 1941 – Music & Arts CD-1119).
Dans le Finale de la 'Neuvième', Busch prend un maximum de risques, en n'hésitant pas à pousser l'orchestre et les chœurs au-delà de leurs limites, ce qui par moment mène l'exécution au bord de la rupture. On n'est pas habitué à une telle tension de la part de ce chef, dont la réputation est plutôt celle d'un classique. Sur ce plan, cet enregistrement est vraiment un témoignage unique.
On notera que l'enregistrement du Chœur n°28 qui termine la deuxième partie de la Création (Die Schöpfung) de Haydn est un inédit.
Nous pouvons également à cette occasion entendre d'autres chanteurs célèbres, à savoir Erna Berger, Julius Patzak et Koloman von Pataky.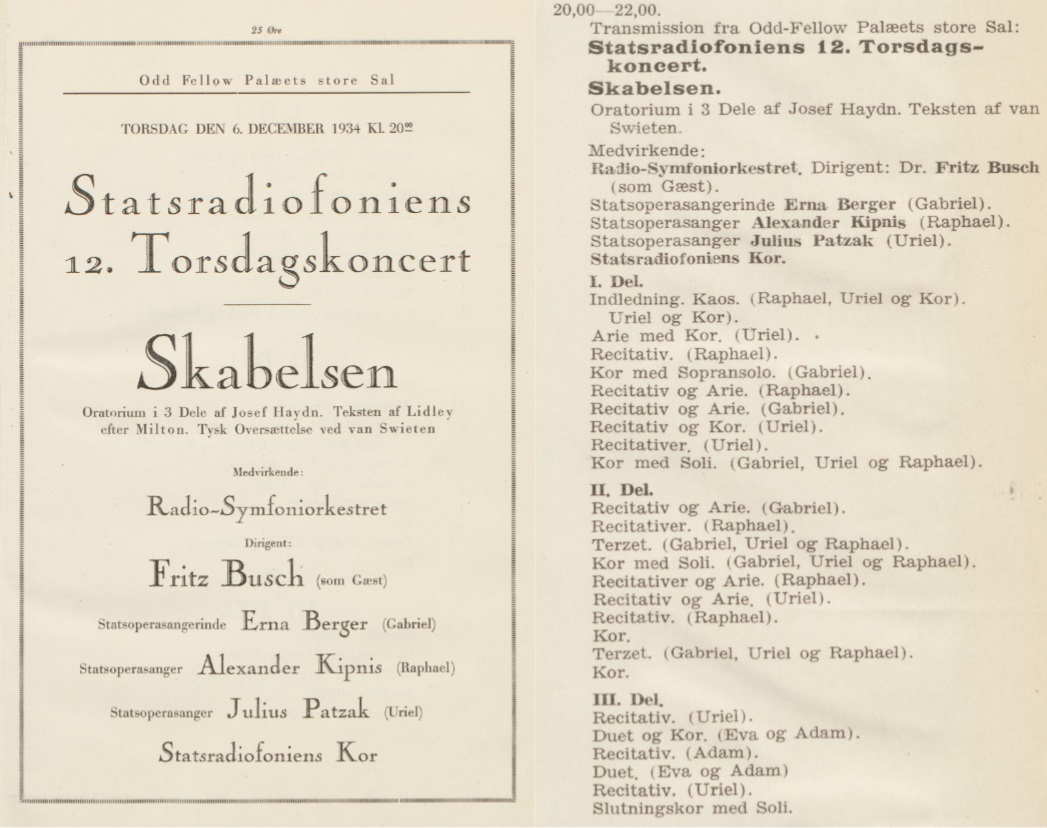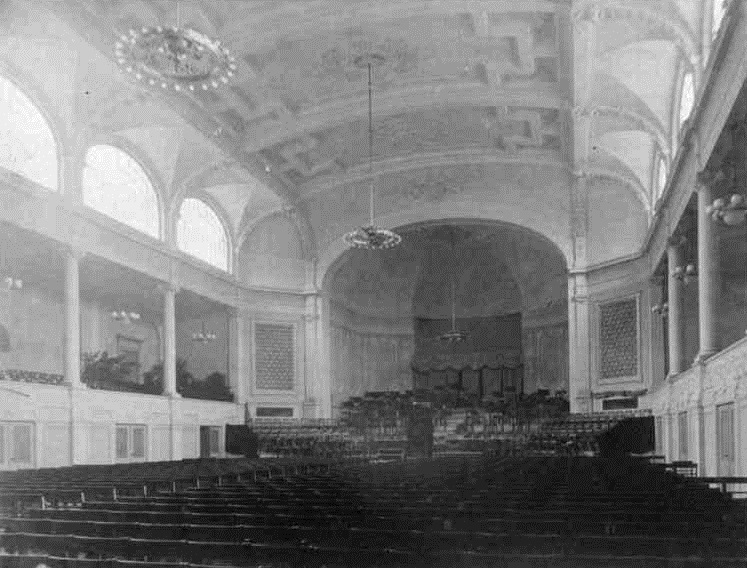 Odd Fellow Palæet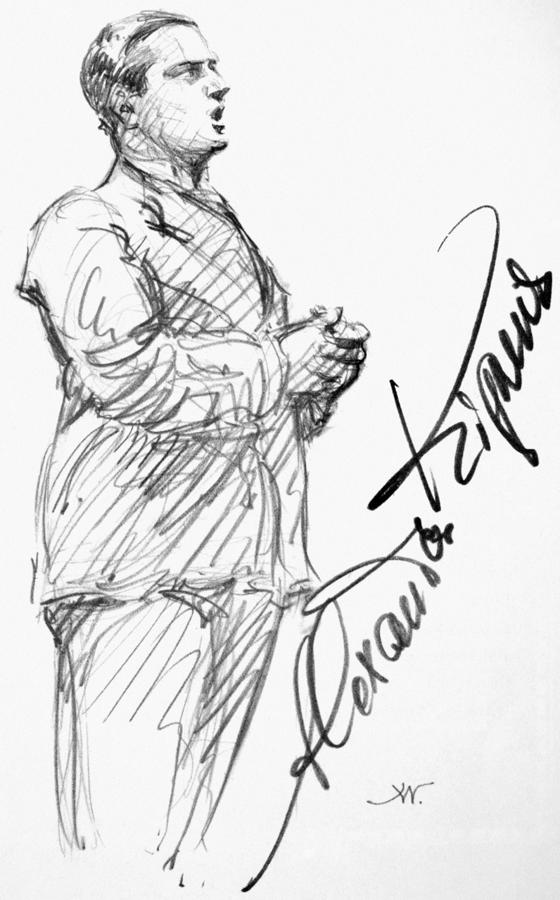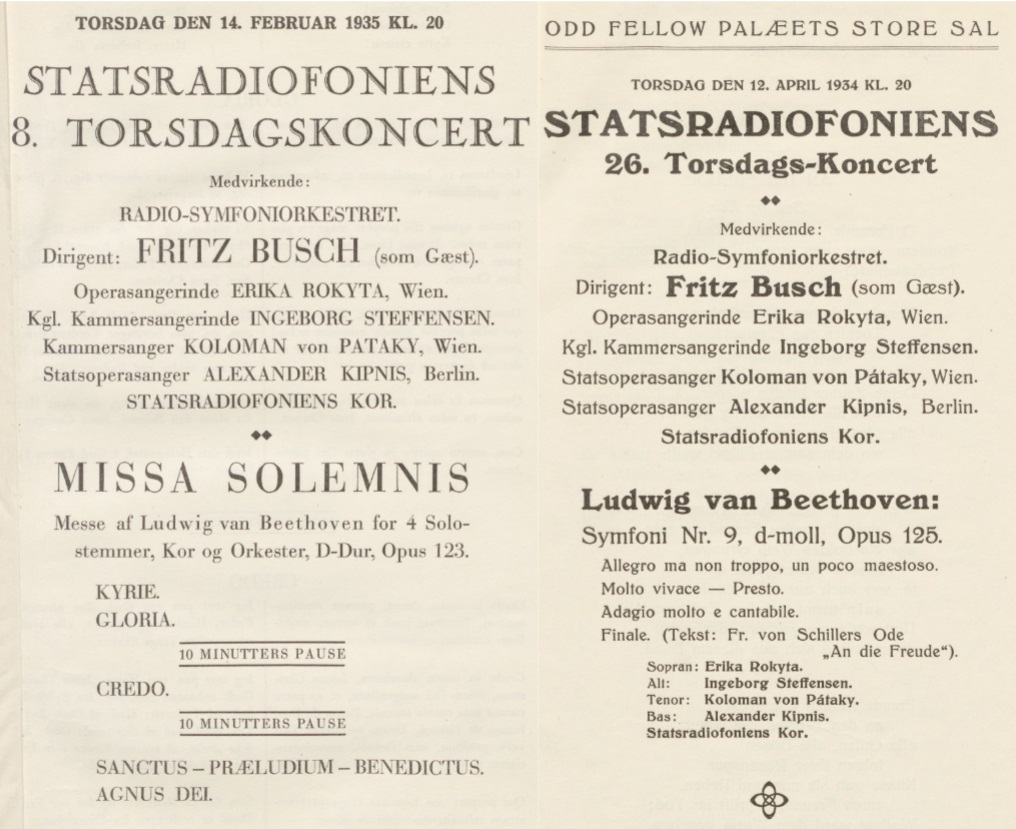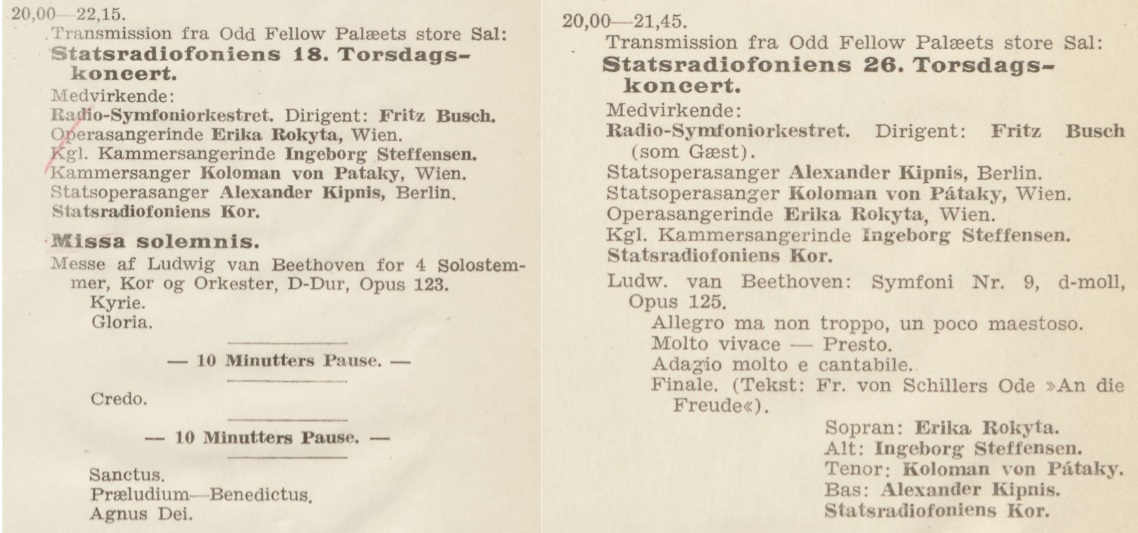 Alexander Kipnis and Fritz Busch have performed together on numerous occasions, such as here at the Danish Radio, but also at the Teatro Colón in Buenos Aires, notably Strauss Rosenkavalier (Ochs), Wagner Fliegende Hollander (Daland), Lohengrin (Hermann) and Parsifal (Gurnemanz), at the Montevideo Opera for Wagner's Walküre (Hunding), and briefly at the MET for two Wagner operas, Tristan und Isolde (Marke) and finally Tannhäuser (Hermann) for Kipnis' last public performance of an opera on May 6, 1946.
By the mid-1930s, Kipnis was at his peak, and these recordings show it, the crowning of which being this truly his historical performance in Beethoven's Ninth Symphony, where he is very much better than with Toscanini (Teatro Colón July 24, 1941 – Music & Arts CD-1119).
In the Finale of the 'Ninth', Busch takes a maximum of risks, not hesitating to push the orchestra and the chorus beyond their limits, which at times brings the performance to the brink of breakdown. We are not used to such tension from this conductor, whose reputation is rather that of a classic. In this respect, this recording is truly a unique testimony.
It should be noted that the recording of Chorus n°28, which ends the second part of Haydn's Creation (Die Schöpfung), was never published before.
We can also enjoy hearing  other famous singers, namely Erna Berger, Julius Patzak and Koloman von Pataky.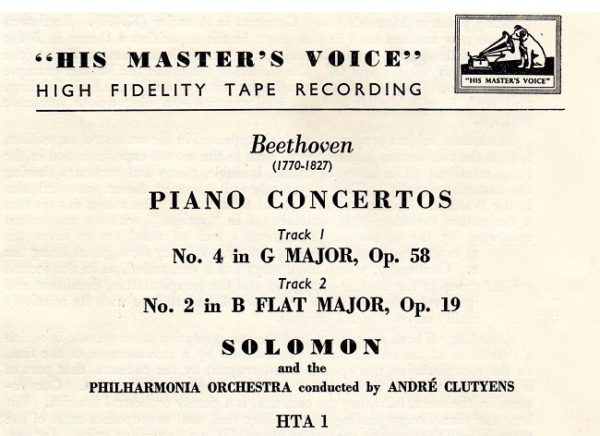 Solomon – Philharmonia Orchestra André Cluytens
London Kingsway Hall
Concerto n°2 Op.19: 3,5 & 6 November 1952
Concerto n°4 Op.58: 3-5 November 1952
Source: Bande Tape HTA 1 (2 tracks 7.5 ips)
En septembre 1954, His Master's Voice (HMV) a publié sa première liste commerciale de bandes pré-enregistrées qui étaient copiées sur les mêmes magnétophones que ceux utilisés par les studios, en utilisant le même type de bandes que lors des séances d'enregistrements. La qualité obtenue reste étonnante, même si la vitesse (19 cm/s) n'est que le quart de celle qui était mise en œuvre (76 cm/s) lors des  enregistrements, et le seul inconvénient est un léger souffle de bande.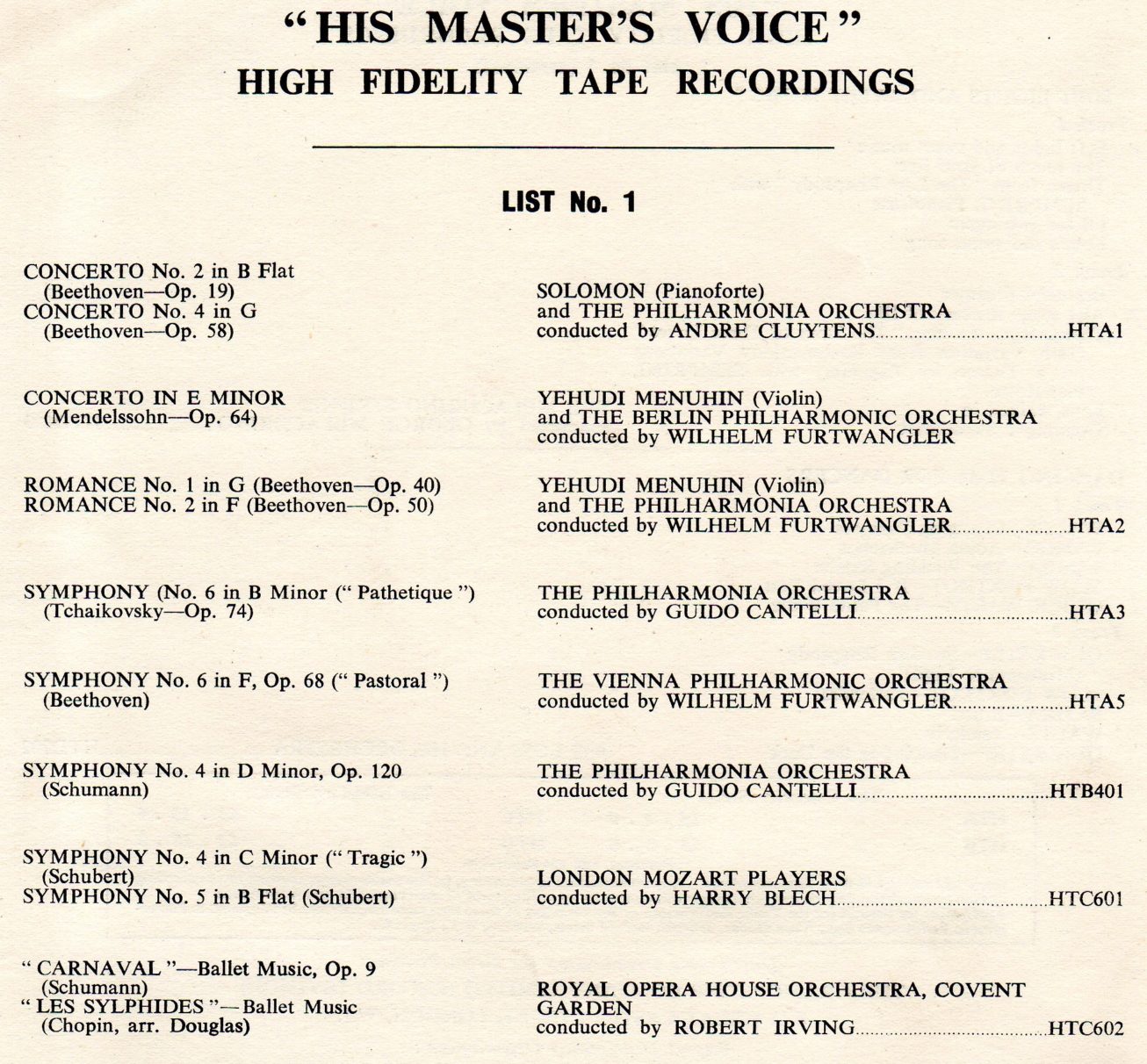 Pour la toute première de la série, référencée HTA 1, HMV a choisi ces deux concertos de Beethoven interprétés par Solomon et Cluytens, deux réalisations magnifiques où les deux musiciens ont accordé leurs conceptions à la perfection. La prise de son, très équilibrée et d'une ampleur très agréable, reflète bien l'acoustique chaleureuse de Kingsway Hall. La bande, qui date donc de 1954, est en très bon état, sauf de temps en temps (dans le concerto n°4) quelques bruits 'électriques' qui proviennent probablement de parasites électriques lors de la copie de la bande.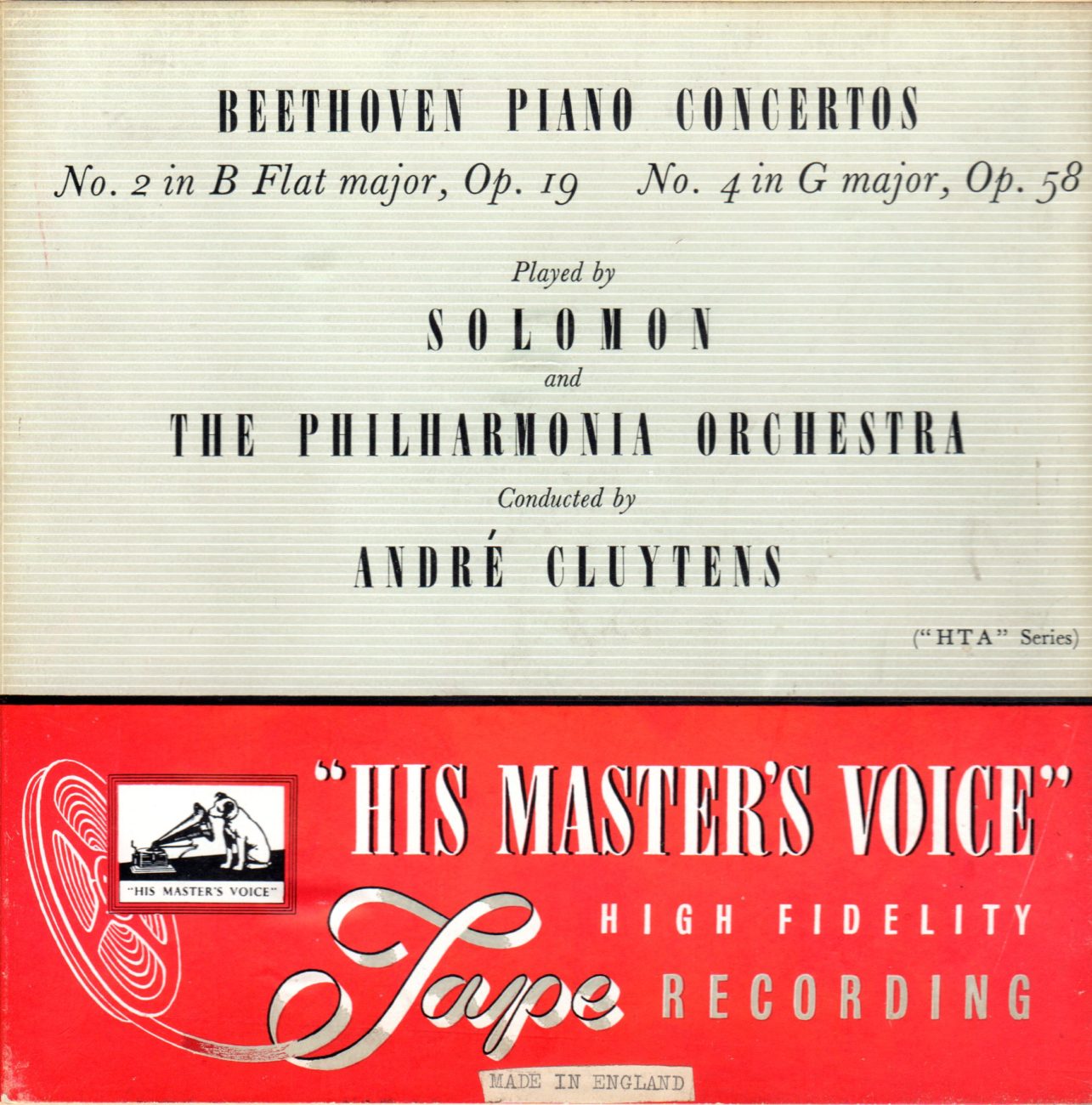 In September 1954, His Master's Voice (HMV) published its first commercial list of pre-recorded tapes that were dubbed onto the same tape recorders used by the studios, and using the same tapes as during the recording sessions. The quality obtained is still amazing, even if the speed (19 cm/s) is only a quarter of the speed that was used (76 cm/s) during the recordings, and the only drawback is a slight tape hiss.
For the very first of the series, referenced HTA 1, HMV chose these two Beethoven concertos performed by Solomon and Cluytens, two magnificent interpretations in which the two musicians matched their views to perfection. The sound recording, very balanced and with a very pleasant fullness, reflects well the warm acoustics of Kingsway Hall. The tape, which dates from 1954, is in very good condition, except for occasional 'electrical' noises (in Concerto No. 4), which were probably due to electrical interferences when the tape was dubbed.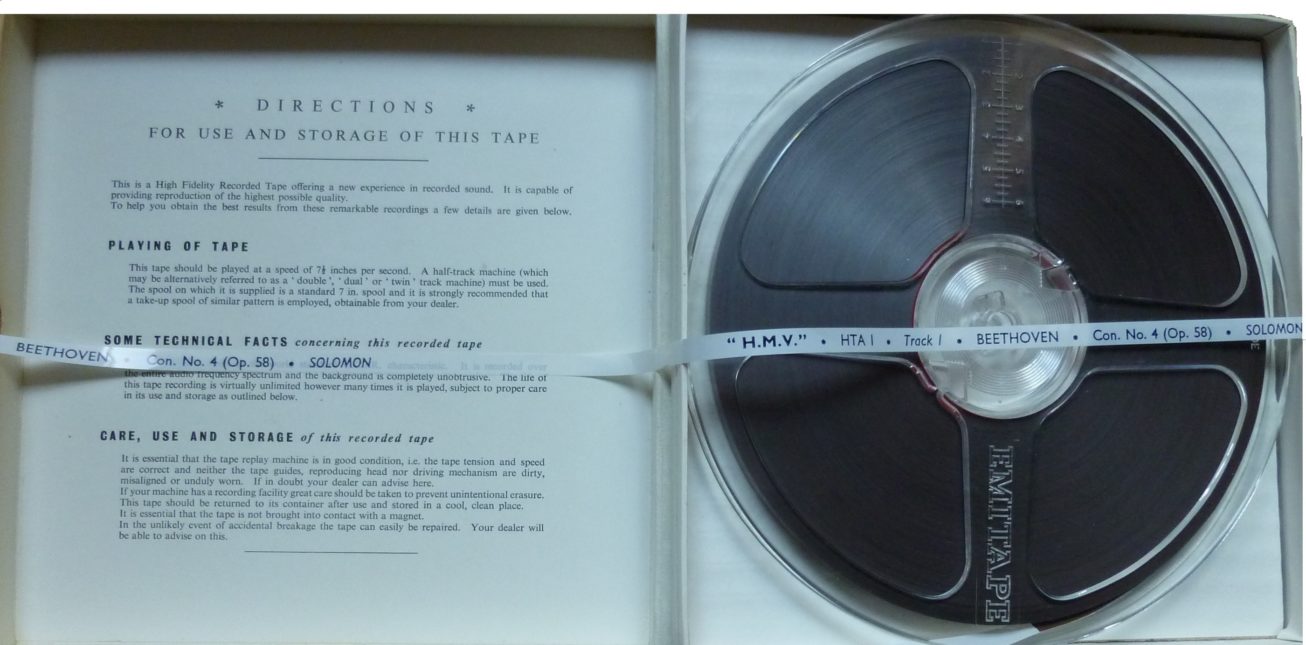 Busch Quartet: Adolf Busch & Gösta Andreasson, violin I & II; Karl Doktor, viola; Hermann Busch, cello
Beethoven Quartet n°9 Op.59 n°3 London Abbey Road Studio n°3 – 10 & 16 November 1933
Source: 33t./LP World Records Retrospect Series SH 271 (1976)
Prod: Fred Gaisberg – Engineer: Edward Fowler
Transfer & Remastering: Anthony Griffith
Pour terminer cette série, voici le troisième des quatuors 'Rasoumovsky'.
Le Quatuor Busch l'a enregistré au Studio n°3 d'Abbey Road avec Edward Fowler, qui a supervisé tous les enregistrements du Quatuor Busch et d' Artur Schnabel dans les années trente, et cela signifie la meilleure qualité possible tant musicale que technique.
Les reports ont été réalisés par Anthony Griffith pour son label 'World Records', et c'est l'assurance que le message musical contenu dans les sources utilisées, à savoir des pressages vinyl à partir des matrices métalliques 78 tours, a été entièrement préservé.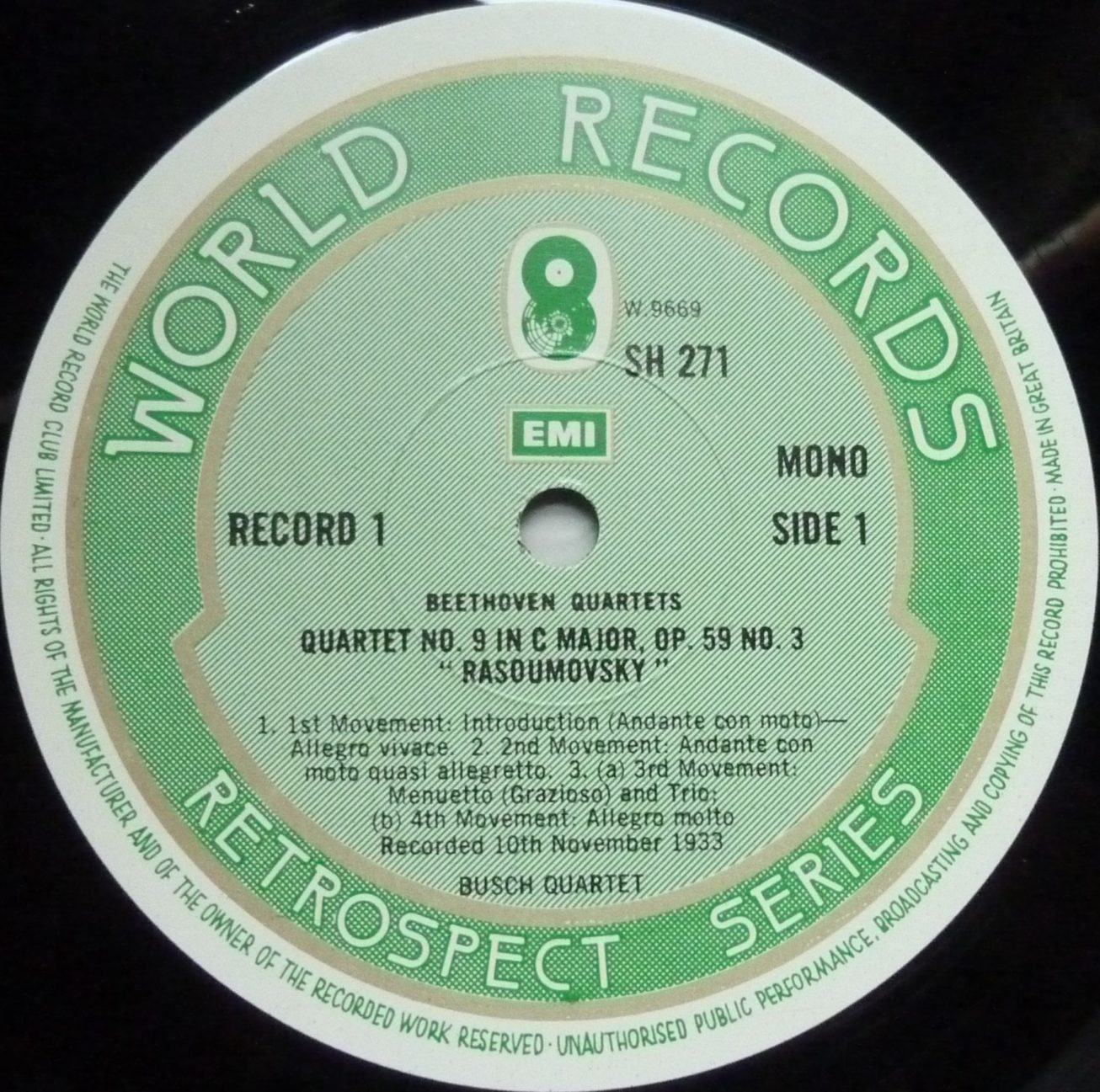 To conclude this series of posts, here is the third 'Rasoumovsky' quartet.
The Busch Quartet recorded it in the Abbey Road Studio n°3 with Edward Fowler, who was in charge of all the recordings with the Busch Quartet and with Artur Schnabel in the 1930s, and this means the best available musical and technical quality.
The transfers were made by Anthony Griffith for his label 'World Records', and this means that the integrity of the musical message contained in the sources that were used, namely vinyl pressings from the 78rpm metal parts, has been fully preserved.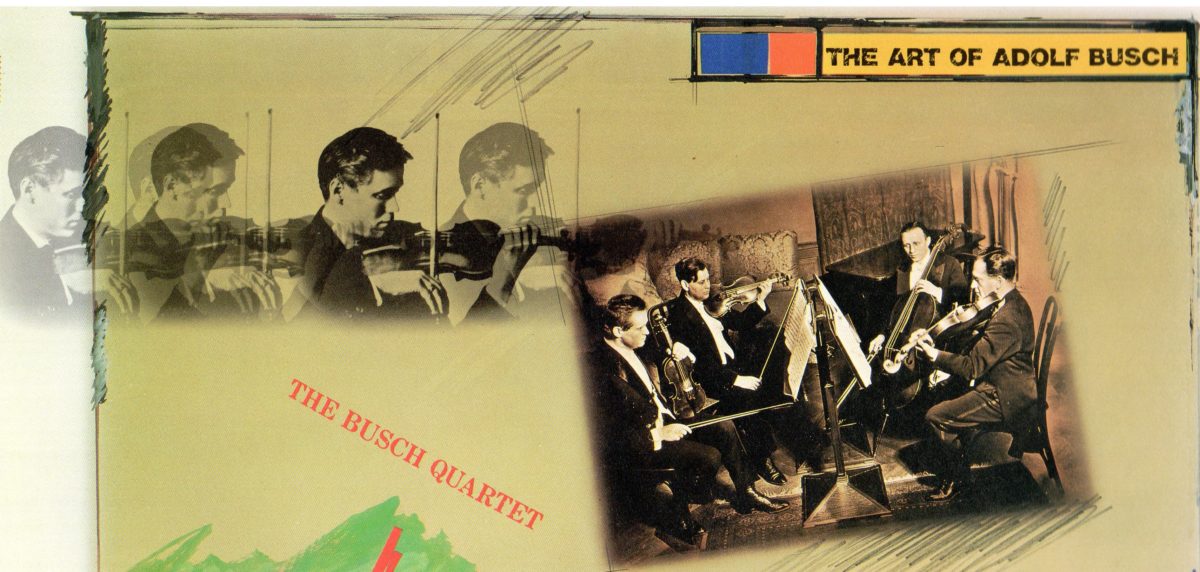 Busch Quartet: Adolf Busch & Gösta Andreasson, violin I & II; Karl Doktor, viola; Hermann Busch, cello
Beethoven Quartet n°8 Op.59 n°2 New York Liederkranz Hall – May 28 & 29, June 2, 1941
Source: 33t/LP CBS/SONY 20AC 1295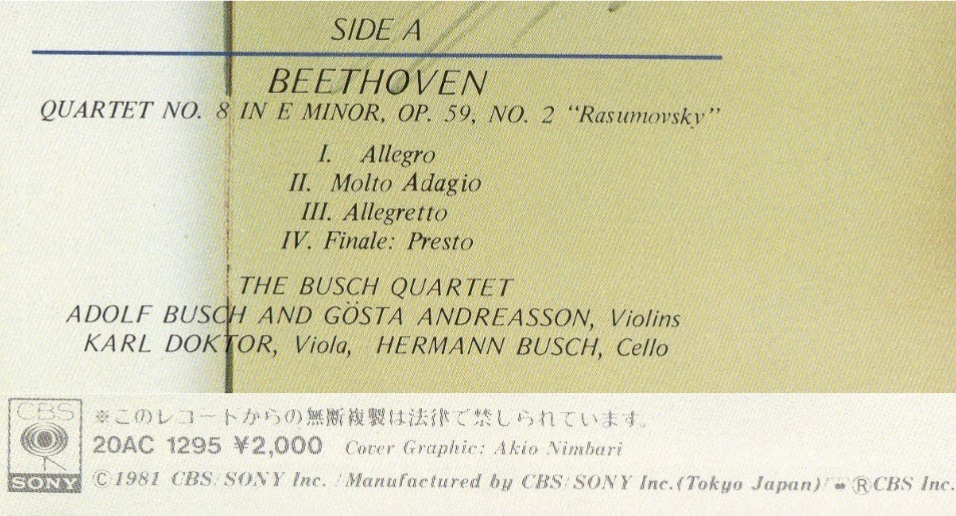 En mai 1930, Fred Gaisberg (HMV), a proposé au Quatuor Busch d'enregistrer les quatuors de Beethoven Op.18 n°1 et 2 , Op.59 n°2, Op. 95 et Op.132. Hermann Busch ayant remplacé Paul Grümmer au pupitre de violoncelle pendant l'été 1930, les enregistrements n'ont commencé que fin 1932, et seuls les quatuors Op.18 n°1, Op.95 et Op.132 ont alors été gravés.
En ce qui concerne le quatuor n°8 Op.95 n°2, Tully Potter rapporte que Gaisberg a continué à le proposer à Busch jusqu'à ce que le Quatuor de Budapest l'enregistre en 1936, qu'il le mettra de nouveau en avant à la fin des années trente, et qu'en fait la correspondance entre HMV et Busch montre clairement que Gaisberg souhaitait un cycle beethovénien complet par le Quatuor Busch, indépendamment des duplications avec d'autres ensembles.
Le quatuor n°8 Op.59 n°2 a été finalement enregistré en 1941 (XCO 30614/23), le premier enregistrement commercial de Busch aux États-Unis, mais il n'a jamais été publié en 78 tours, prétendument à cause d'une édition concurrente chez Victor (RCA) par le Coolidge Quartet, mais il se pourrait que sa qualité technique ait pu également être à l'origine de cette décision. La prise de son est nettement moins bonne que pour le quatuor n°7 Op. 59 n°1*: le son est relativement dur, avec de la distorsion.
Il faudra attendre 1981 (20 AC 1295 ou 20 AC 1883) pour une publication en microsillon, mais seulement au Japon, de cette exécution vraiment inspirée. Ce ne sera pas dans les meilleures conditions, car ses quelque 36' ont été logées sur une seule face de microsillon, l'autre face étant consacrée pour la référence 20 AC 1295 à des œuvres de Corelli, Tartini, Geminiani, Haendel et Brahms et pour la référence 20 AC 1883, au Quatuor n°3 Op. 67 de Brahms. Il n'y aura pas d'édition en CD de la part de Sony. C'est la firme anglaise Biddulph qui s'en chargera en 2004 (CD 80208-2).
La gravure en une seule face d'un 33 tours n'arrange pas les choses, car il a fallu pour cela alléger les graves de manière préjudiciable aux sonorités des musiciens, et surtout au violoncelle d'Hermann Busch.
Biddulph a choisi une égalisation convaincante pour améliorer l'écoute, mais la tension du discours musical et la vivacité du staccato de Busch, en particulier dans le Finale interprété avec un enthousiasme et une énergie communicatives, en ressortent quand même un peu amoindries.
En 2017, Sony a réédité les enregistrements de Serkin dont ceux avec Adolf Busch. Ils sont disponibles en téléchargement HD. La sonate violon-piano de Beethoven n°5 Op.24 (9 octobre 1951), restée inédite, n'a été publiée qu'en 2021, une nouvelle fois par Biddulph (CD 85004-2).
Espérons que Sony publiera prochainement une Edition complète consacrée à Adolf Busch.
* Dans le Presto, à 2'40 il se produit une courte interruption du son (présente sur le 33 tours et en partie corrigé sur le CD Biddulph), qui fait penser à un mauvais montage entre deux faces. En effet, Tully Potter indique que, pour la Face 9 (XCO 30622), le quatuor a du enchaîner la fin de l'Allegretto, une pause et le début du Finale, et dans cette hypothèse, la Face 10 (XCO 30623) dure seulement 2'25.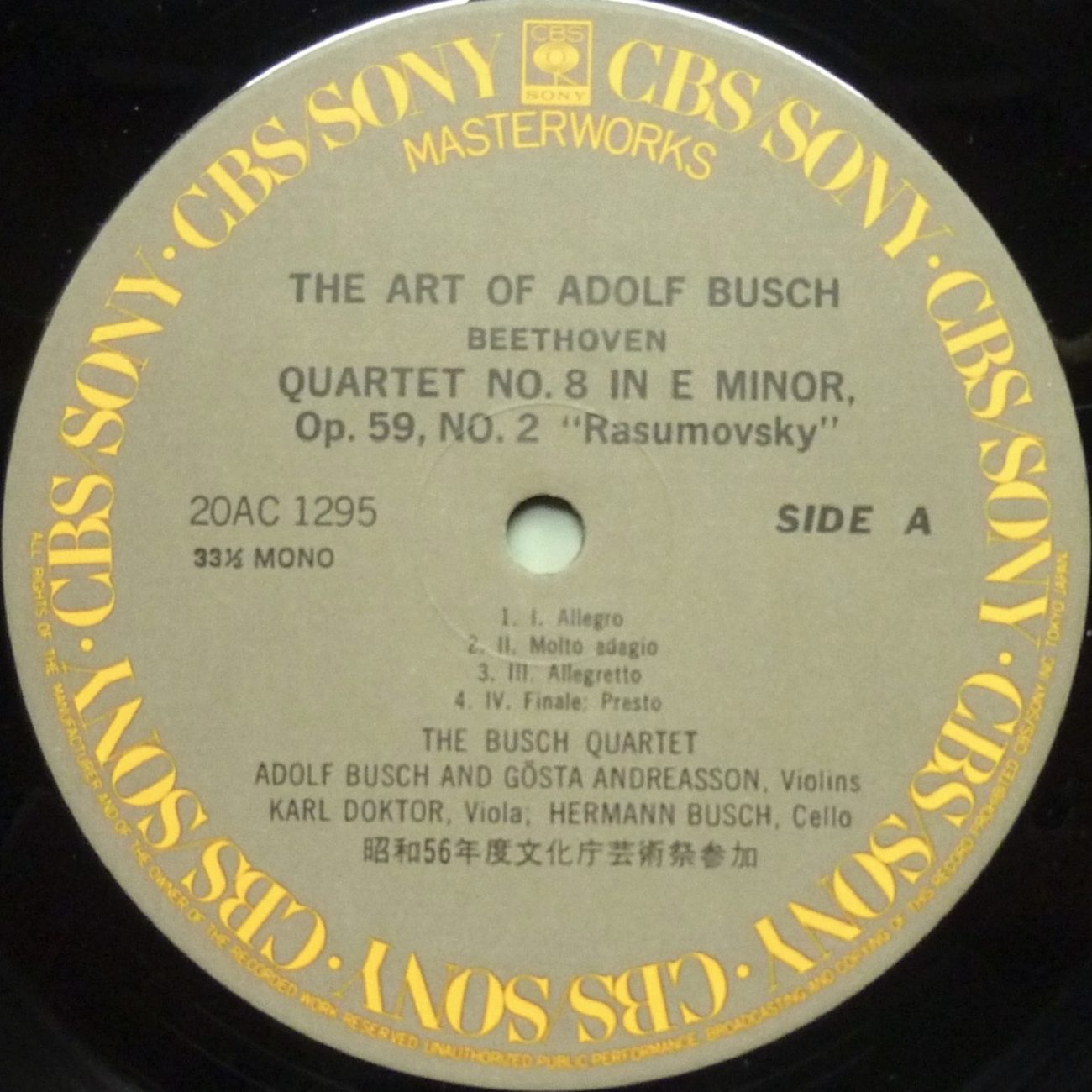 In May 1930, Fred Gaisberg (HMV), proposed to the Busch Quartet to record Beethoven's quartets Op.18 n°1 and 2 , Op.59 n°2, Op. 95 and Op.132. Hermann Busch having replaced Paul Grümmer as the quartet cellist during the summer of 1930, the recordings began only at the end of 1932, and only quartets Op.18 n°1, Op.95 and Op.132 were cut.
As to quartet n°8 Op.95 n°2, Tully Potter tells that Gaisberg kept proposing it to Busch until the Budapest Quartet recorded it in 1936, that he put it forward again at the end of the 30s, and that in fact it is clear from the HMV-Busch correspondance that Gaisberg wished to have the complete Beethoven cycle done by the Busch Quartet, regardless of duplications with other ensembles.
Quartet n°8 Op.59 n°2 was finally recorded in 1941 (XCO 30614/23), Busch's first commercial recording in the USA, but it was never issued on 78rpm discs, supposedly because of another competitive issue from Victor (RCA) by the Coolidge Quartet, but it might be that its technical quality was also a reason for this decision. The recorded sound is clearly not as good as for quartet n°7 Op. 59 n°1*: it is rather harsh with a certain amount of distortion.
It was not until 1981 (20 AC 1295 ou 20 AC 1883) that a LP publication of this truly inspired performance appeared, but only in Japan. It was not in the best conditions, for its 36' have been squeezed onto a single LP side, the other side being devoted for reference 20 AC 1295 to works by Corelli, Tartini, Geminiani, Haendel and Brahms and for reference 20 AC 1883, to Brahms' Quartet n°3 Op. 67, and without a further CD issue by Sony. This happened only in 2004 and it is Biddulph that published it (CD 80208-2).
Having the whole work on one LP side doesn't ease things, since the lower frequencies had to be desemphasised, which proved detrimental to the sound of the musicians, especially to Hermann Busch's cello.
Biddulph has chosen a convincing equalization to improve the listening, but the tension of the musical discourse and the vivacity of Busch's staccato, particularly in the Finale which he performed with a communicative enthousiasm and energy, come out somewhat reduced.
In 2017, Sony re-issued Serkin's recordings, including those with Adolf Busch. They are available as Hi-Res downloads. Beethoven's violin-piano sonata n°5 Op.24 (October 9, 1951), previously unissued, was published only in 2021, once more by Biddulph (CD 85004-2).
Let's hope Sony will shortly issue a complete Adolf Busch Edition.
* At 2'40 into the Presto, there is a short interruption in the sound (both on the LP and, partly corrected, on the Biddulph CD), which sounds like a bad side break. Indeed, Tully Potter mentions that for Side 9 (XCO 30622), the quartet had to perform in sequence the end of the Allegretto, a pause and the beginning of the Finale. In this hypothesis, Side 10 (XCO 30623) lasts only 2'25.