Autres sites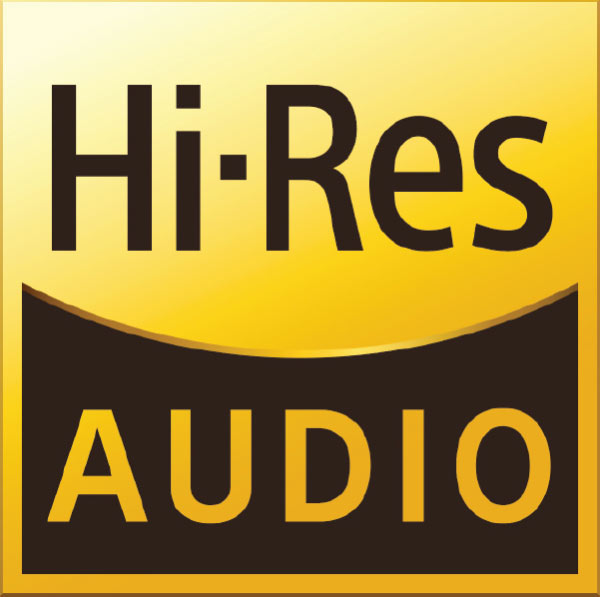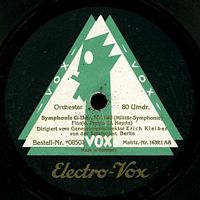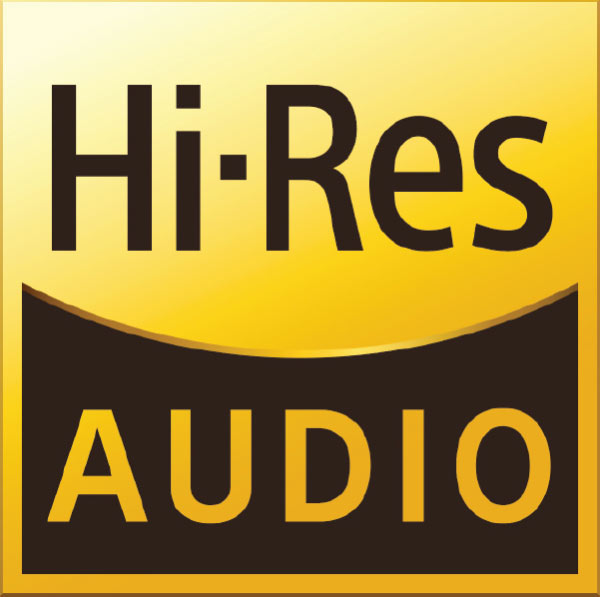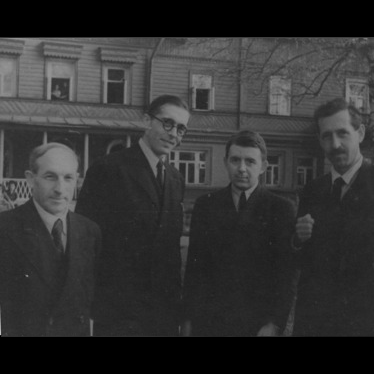 Paul Michael von Ganski's record club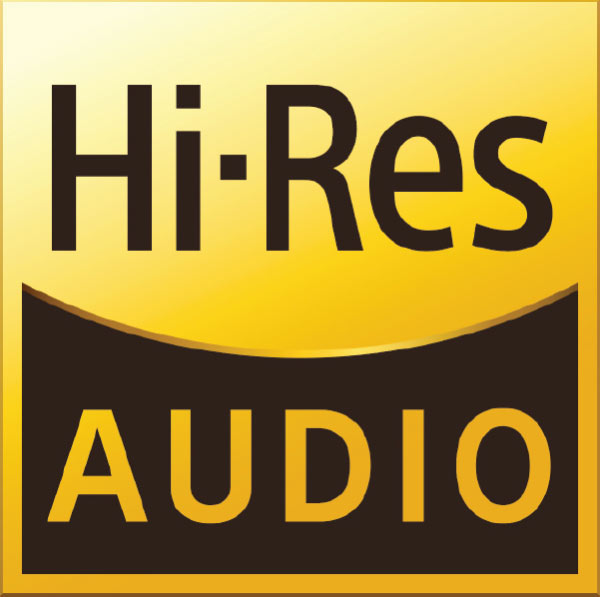 Étiquette :
Philharmonia Orchestra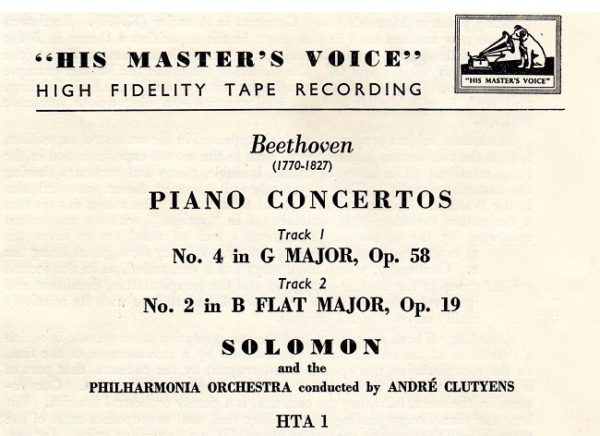 Solomon – Philharmonia Orchestra André Cluytens
London Kingsway Hall
Concerto n°2 Op.19: 3,5 & 6 November 1952
Concerto n°4 Op.58: 3-5 November 1952
Source: Bande / Tape HTA 1 ( 2 pistes 19 cm/s  / 2 tracks 7.5 ips)
En septembre 1954, His Master's Voice (HMV) a publié sa première liste commerciale de bandes pré-enregistrées qui étaient copiées sur les mêmes magnétophones que ceux utilisés par les studios, en utilisant le même type de bandes que lors des séances d'enregistrements. La qualité obtenue reste étonnante, même si la vitesse (19 cm/s) n'est que le quart de celle qui était mise en œuvre (76 cm/s) lors des  enregistrements, et le seul inconvénient est un léger souffle de bande.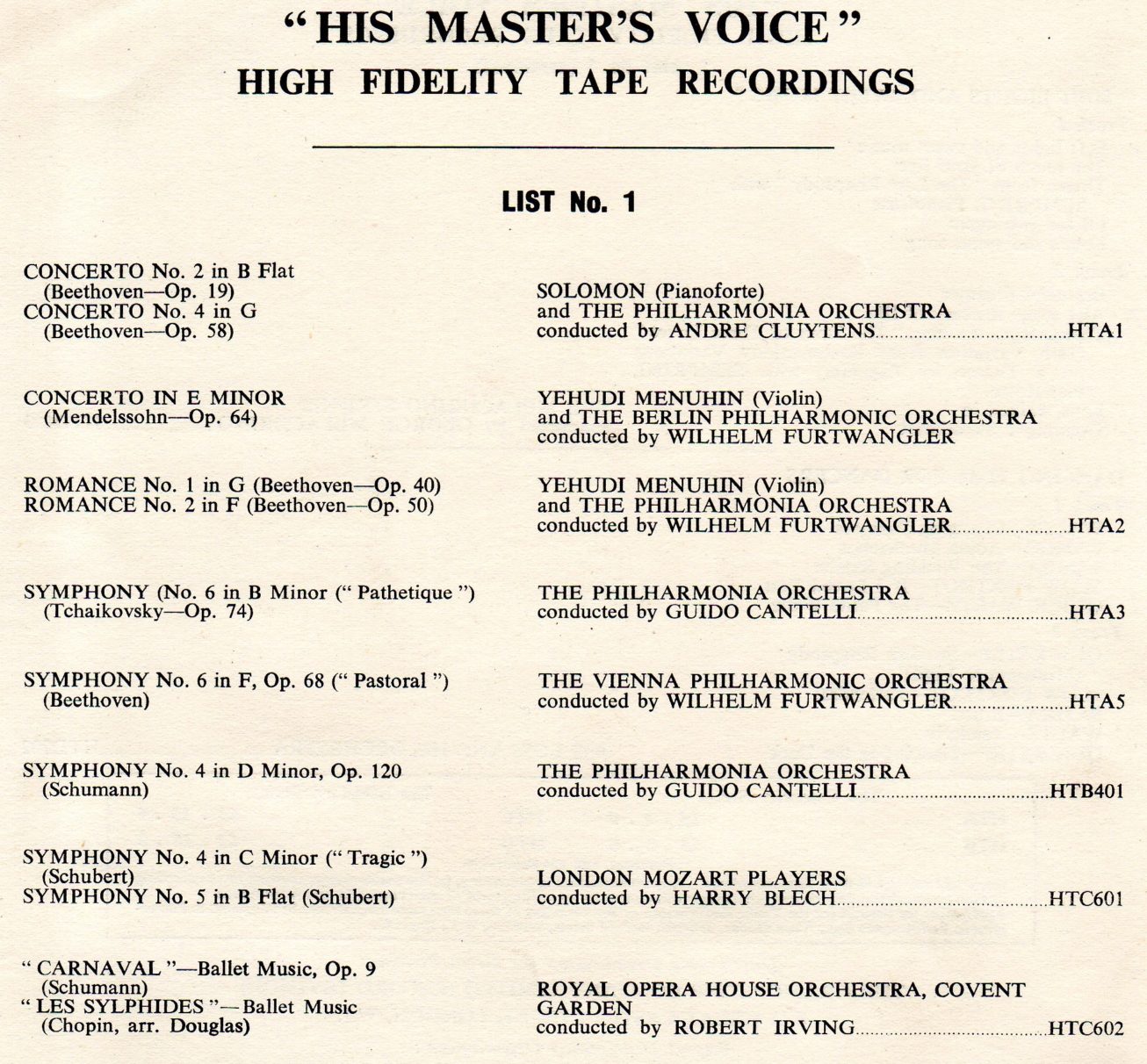 Pour la toute première de la série, référencée HTA 1, HMV a choisi ces deux concertos de Beethoven interprétés par Solomon et Cluytens, deux réalisations magnifiques où les deux musiciens ont accordé leurs conceptions à la perfection. La prise de son, très équilibrée et d'une ampleur très agréable, reflète bien l'acoustique chaleureuse de Kingsway Hall. La bande, qui date donc de 1954, est en très bon état, sauf de temps en temps (dans le concerto n°4) quelques bruits 'électriques' qui proviennent probablement de parasites électriques lors de la copie de la bande.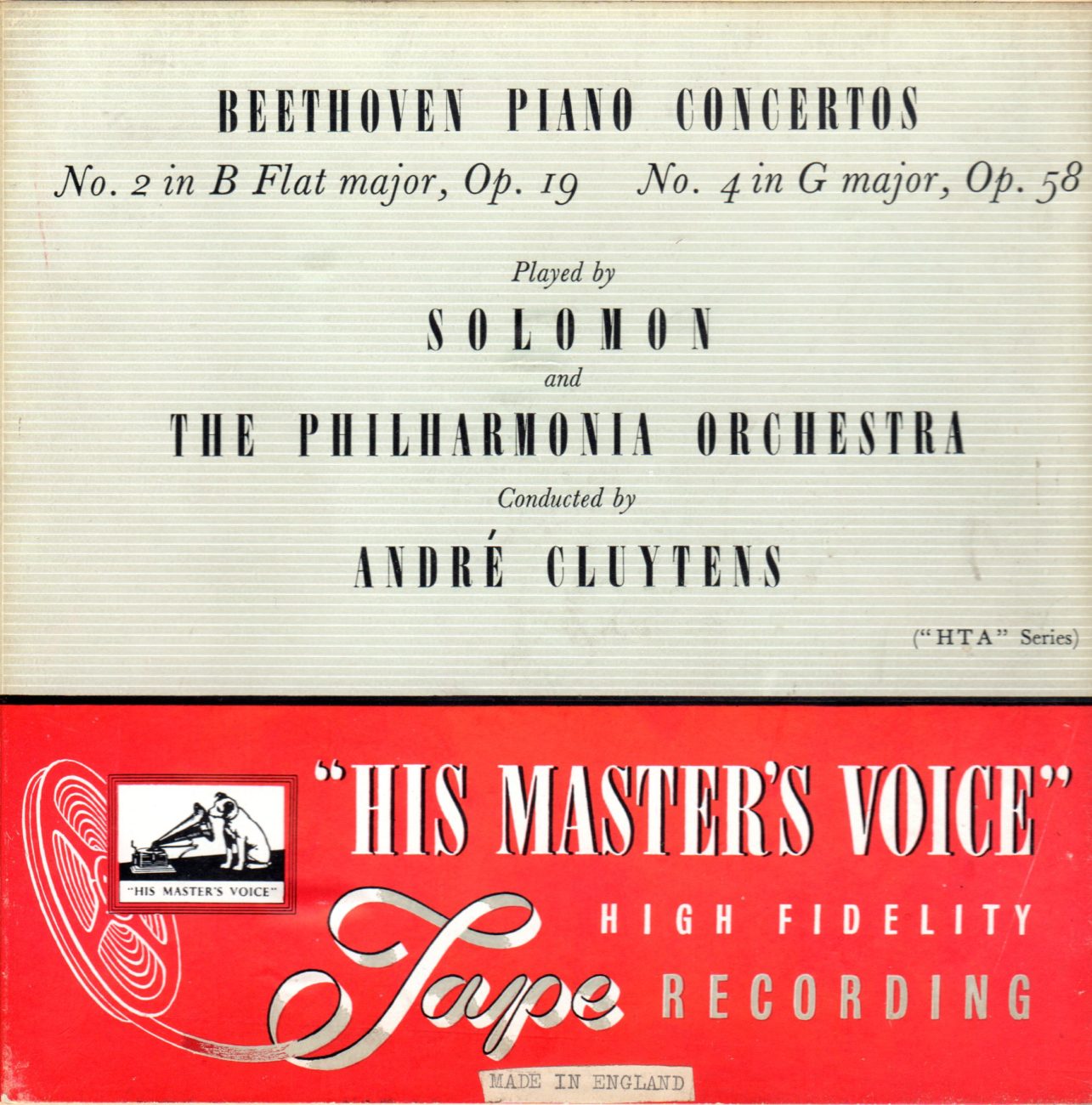 In September 1954, His Master's Voice (HMV) published its first commercial list of pre-recorded tapes that were dubbed onto the same tape recorders used by the studios, and using the same tapes as during the recording sessions. The quality obtained is still amazing, even if the speed (19 cm/s) is only a quarter of the speed that was used (76 cm/s) during the recordings, and the only drawback is a slight tape hiss.
For the very first of the series, referenced HTA 1, HMV chose these two Beethoven concertos performed by Solomon and Cluytens, two magnificent interpretations in which the two musicians matched their views to perfection. The sound recording, very balanced and with a very pleasant fullness, reflects well the warm acoustics of Kingsway Hall. The tape, which dates from 1954, is in very good condition, except for occasional 'electrical' noises (in Concerto No. 4), which were probably due to electrical interferences when the tape was dubbed.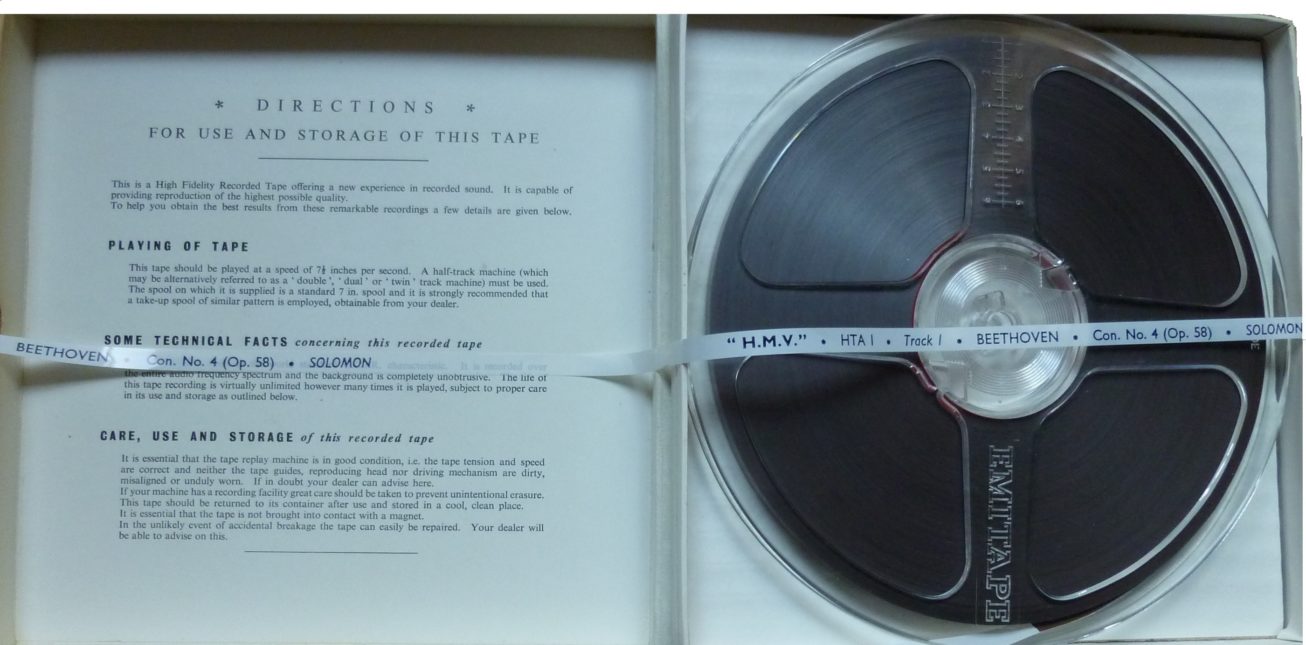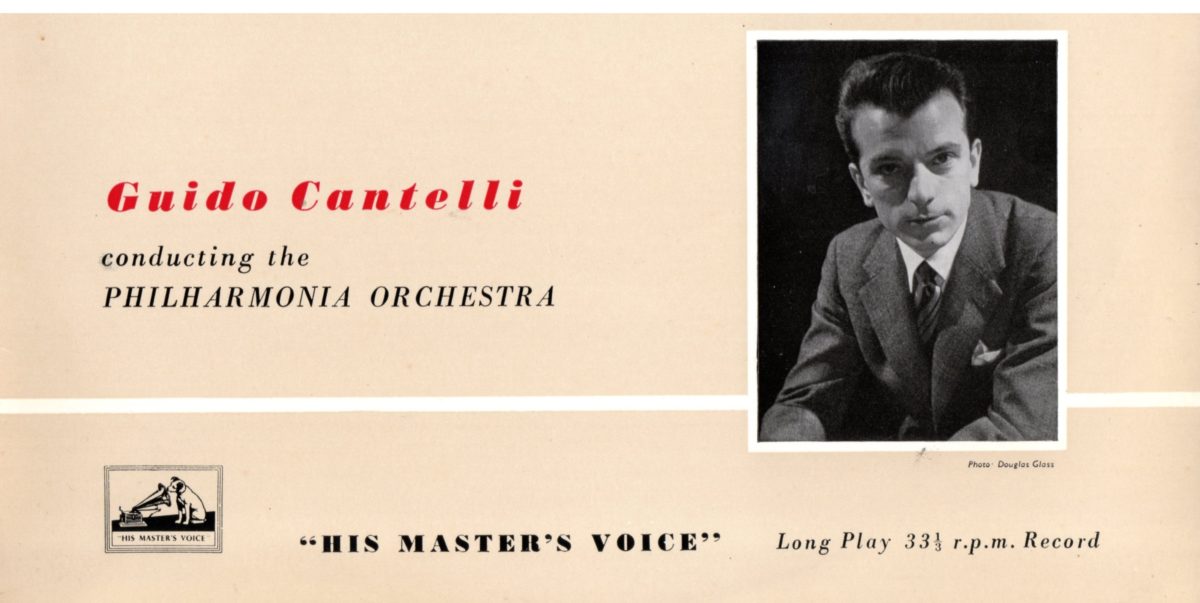 NBC SO Carnegie Hall – 15 December 1951 (Bande/Tape)
_________
Philharmonia Orchestra – 8, 9, 12, 16 &18 August 1955 (GHLP 1004-Mono)
La Troisième Symphonie est réputée comme étant la Symphonie de Brahms la plus difficile à interpréter. Si des chefs comme Walter ou Furtwängler ont signé des versions considérées comme des références, elle a posé beaucoup de problèmes même à de grands brahmsiens, à commencer par Toscanini qui, dans ses témoignages enregistrés, ne l'a vraiment réussie qu'avec le Philharmonia Orchestra, en concert à Londres au Royal Festival Hall en 1952.
C'était par contre une des grandes interprétations de Guido Cantelli qui en a laissé trois témoignages enregistrés (NBC SO, Boston SO, Philharmonia Orchestra).
L'enregistrement réalisé pour HMV/EMI à Kingsway Hall en 1955 a été capté à la fois en monophonie et en stéréophonie expérimentale. A cet effet , il y avait deux équipes de prises de son. L'enregistrement stéréophonique n'a été publié qu'en 1978, et depuis, c'est cette seule version qui est rééditée. Toutefois, en comparant ces deux captations, on constate qu'avec l'étalement en largeur de l'orchestre procuré par la stéréo, la réverbération de Kingsway Hall tend à diluer les timbres et à lisser les phrasés, alors que la prise de son mono, bénéficiant d'un judicieux placement microphonique qui permet à l'acoustique ample de la salle de porter pleinement le son de l'orchestre, est bien mieux définie: l'interprétation sonne de manière nettement plus vivante, et les timbres et les détails du phrasé sont mieux restitués. Avec la version mono, on est aussi musicalement plus proche de la version enregistrée en concert avec le NBC SO.
Le tableau des minutages ci-dessous montre qu'en studio avec le Philharmonia, et comme c'était en général le cas avec Cantelli, les tempi sont plus larges. Il montre aussi qu'en concert, Cantelli faisait la reprise (environ 3′) dans le premier mouvement, mais que cette reprise est malheureusement omise dans l'enregistrement commercial avec le Philharmonia.
Minutages/Timings:
NBC SO 15 Dec. 1951 (12'23; 7'57; 5'35; 8'06)
Boston SO 25 Dec. 1954 (12'28; 7'58; 5'45; 8'02)
NYPO 20 Jan. 1955 (12'40; 7'45; 5'40; 8'10)
Philharmonia Orch Aug. 1955 (9'57; 8'43; 6'18; 8'25)
[Philharmonia Orch Toscanini 1 Oct 1952 (12'27; 8'31; 6'17; 8'34)]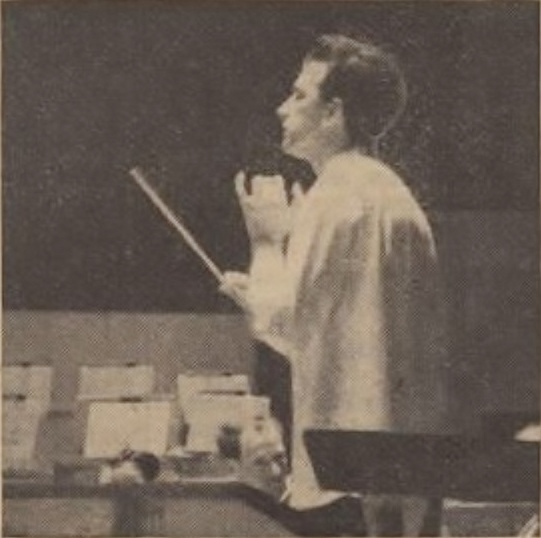 Cantelli Philharmonia Edinburgh
Among the Brahms Symphonies, the Third Symphony is considered as being the most difficult to perform. If conductors like Walter or Furtwängler have made recordings considered as references, it proved problematic even for great Brahms conductors, and for Toscanini to start with, who in his recorded testimonies was only successful with his 1952 London concert in Royal Festival Hall with the Philharmonia Orchestra.
On the other hand, it was one of the great performances of Guido Cantelli who left three recordings (NBC SO, Boston SO, Philharmonia Orchestra).
The 1955 recording for HMV/EMI in Kingsway Hall was made both in mono and in experimental stereo. For this purpose, there where two recording teams. The stereophonic version was published only in 1978, and since then, is the only one to be re-issued. However a comparison between both reveals that, because of the Kingsway Hall reverberation, the spreading in width of the orchestra brought by stereophony goes with a lower definition of the timbres and a smoothing of the phrasings, whereas the mono version, because of a well chosen microphone placement that allows the warm hall acoustics to bring a full-blooded orchestral sound, has much more definition: the performance sounds much more alive, and the timbres and the details of phrasing are better reproduced. With the mono version, we are also musically closer to the concert performance recorded with the NBC SO.
The timings (see above) show that in studio with the Philharmonia, and as was generally the case with Cantelli, the tempi are broader. They also show that, in live performances, Cantelli made the first movement repeat (about 3′), but that this repeat was omitted in the commercial recording with the Philharmonia.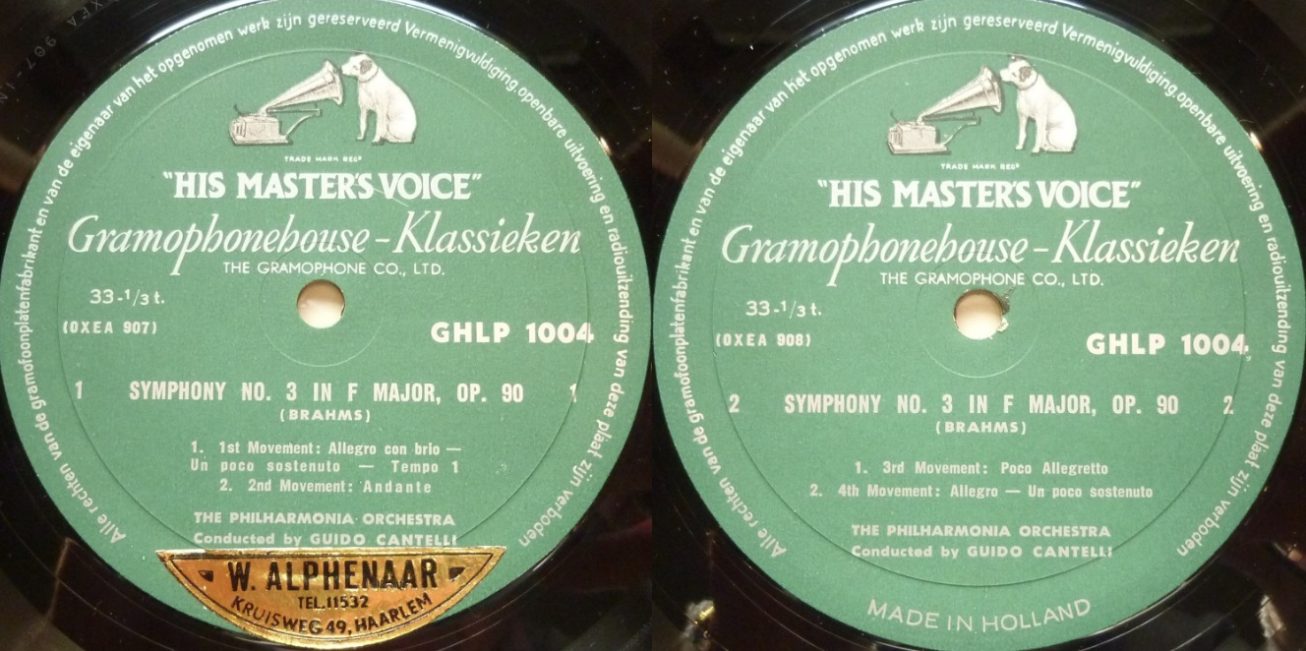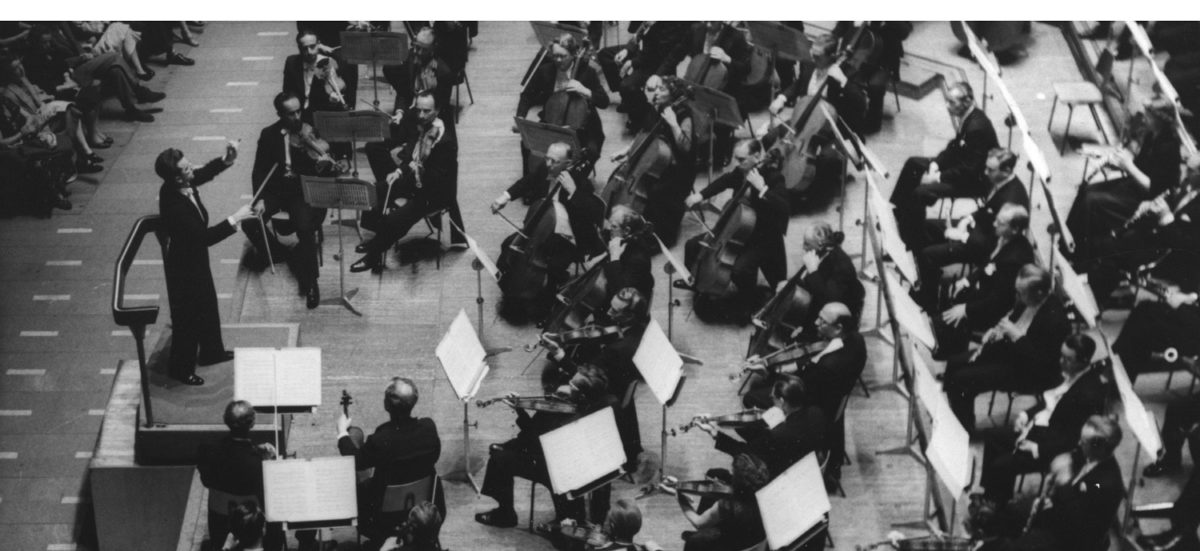 Guido Cantelli
Source: Bande/Tape  19 cm/s / 7.5 ips
I – Philharmonia Orchestra – London Kingsway Hall May 15 & 21, 1953
Manoug Parikian, violin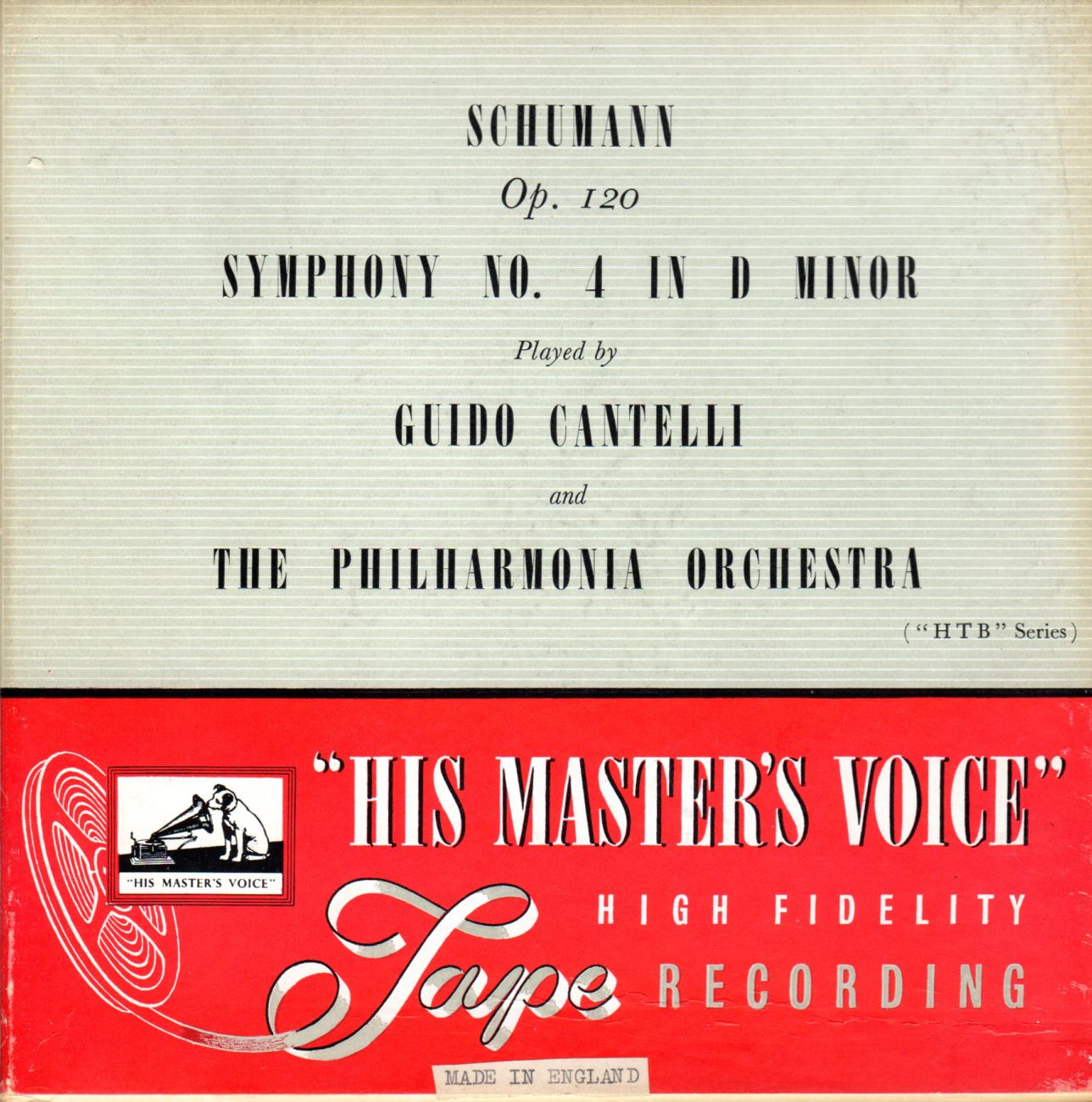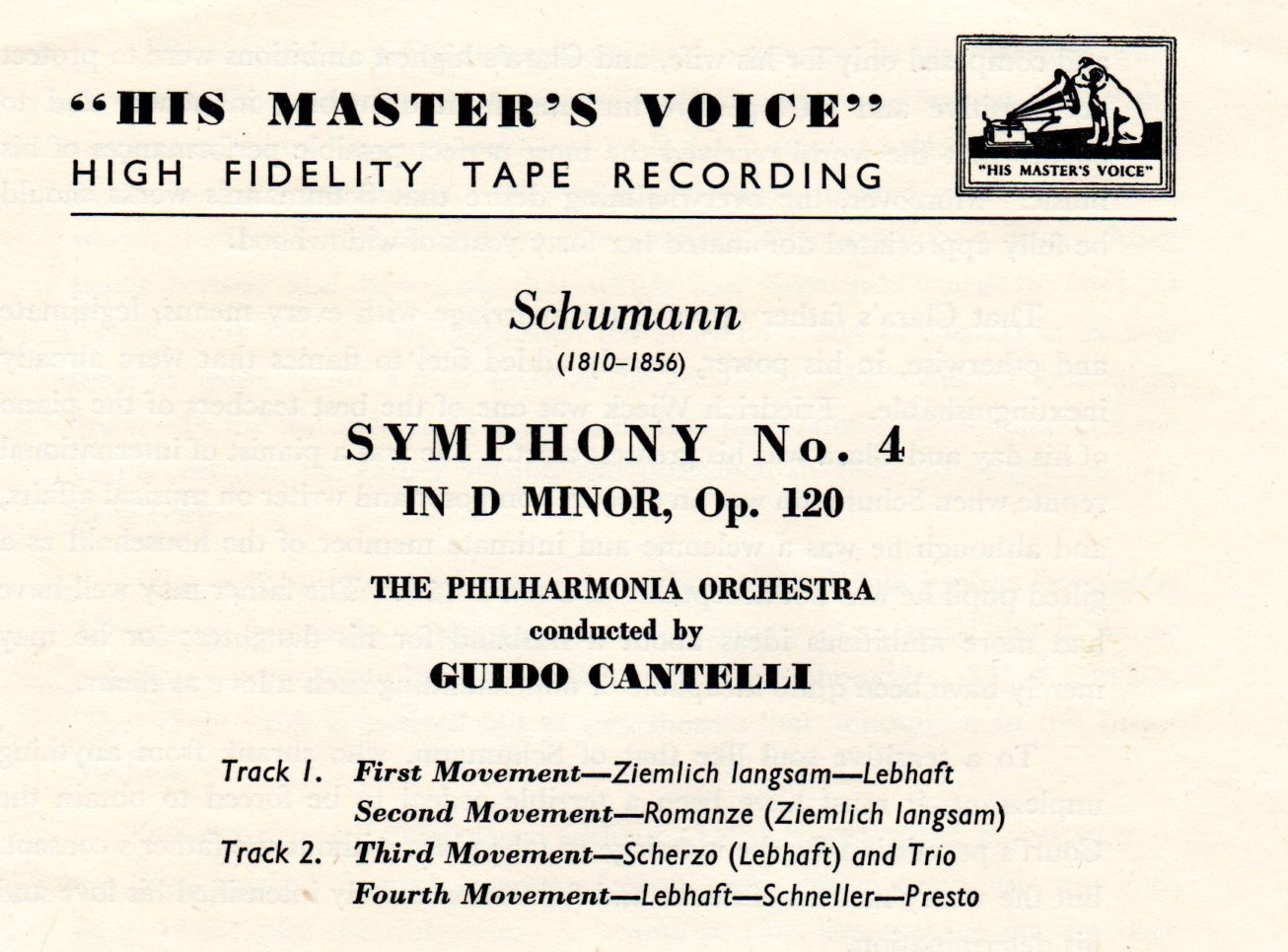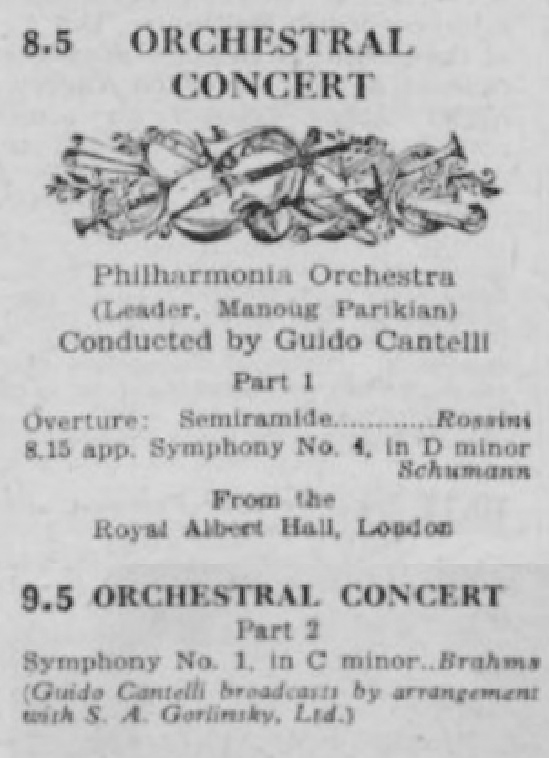 Concert du 11 mai 1953 (BBC Third Program)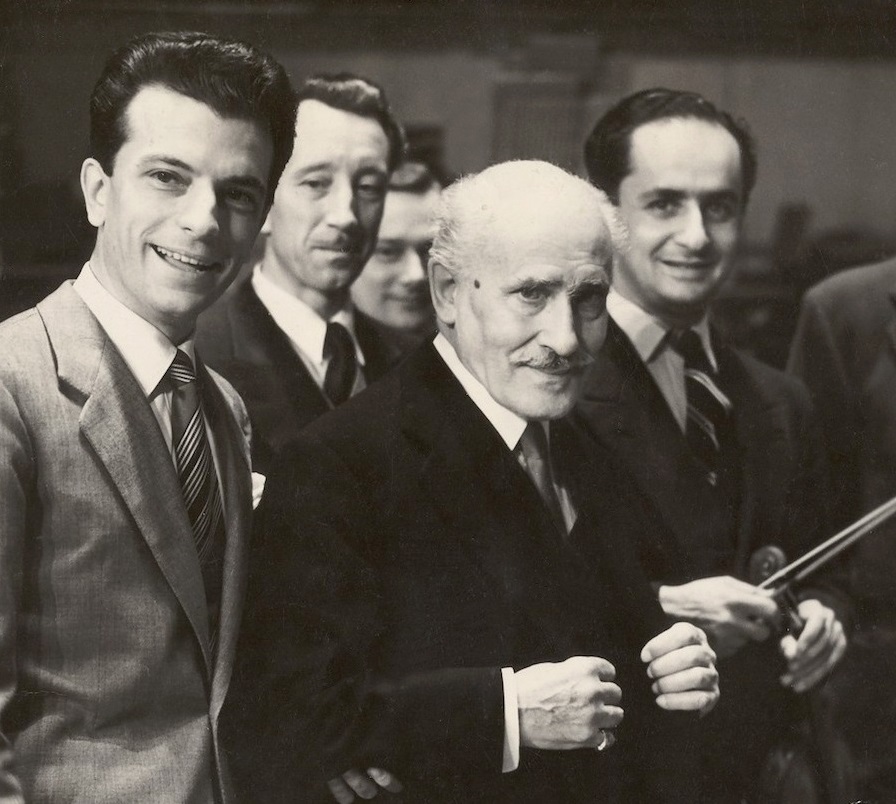 Guido Cantelli Herbert Downes Arturo Toscanini Manoug Parikian
La Quatrième de Schumann: une des grandes interprétations de Guido Cantelli. Son enregistrement avec le Philharmonia, réalisé peu après un concert au Royal Albert Hall (et quasiment en même temps que celui de Furtwängler), est ici reproduit à partir d'un exemplaire en bon état de la bande commercialisée sous la référence HTB 401. Quant à la version en public avec le NYPO, elle matérialise la seule série de concerts où il l'a programmée avec cet orchestre, et aussi son ultime vision de cette œuvre, assez différente de celle avec le Philharmonia, mais tout aussi passionnante.
____________
Schumann Symphonie n°4 – Cantelli Concerts (* = concert radiodiffusé/broadcast concert):
Orchestra del Teatro alla Scala: 12/11/ 1954 (Brescia);   NBC SO: 29/11/1952*; NYPO: 15, 16, 18*, 24/3/1956;   BSO: 6, 7*/2/1953; WPO: 9/8/1953* (Salzburg);  Philharmonia: 11/5/1953* (CD ICAC 5143); 9/9/1954* Edinburgh (CD ICAC 5081)
____________
The Schumann Fourth: one of the great interpretations by Guido Cantelli. His recording with the Philharmonia, made soon after a concert at Royal Albert Hall (and almost at the same time as Furtwängler's), is reproduced here from a copy in  good condition of the HTB 401 commercial tape. As to the live version with the NYPO, it materializes the only concert week when he performed it with this orchestra, and also his last vision of this work, rather different from the one with the Philharmonia, but as thrilling.
II – NYPO New York Carnegie Hall – March 18, 1956
John Corigliano, violin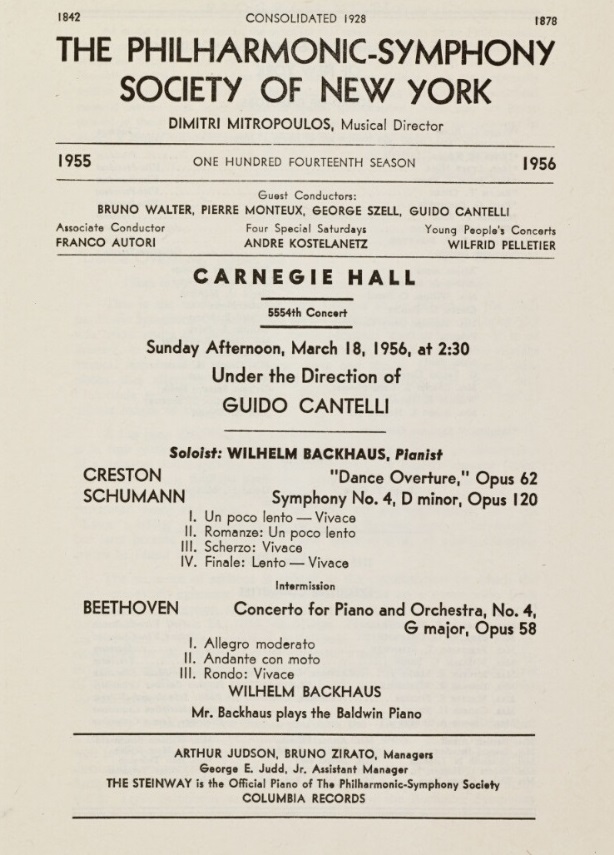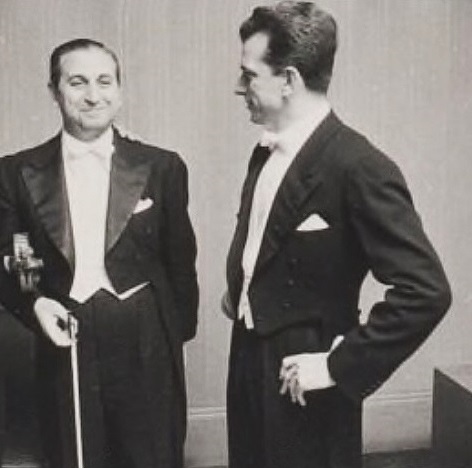 John Corigliano Guido Cantelli
Les liens de téléchargement sont dans le premier commentaire. The download links are in the first comment.
Warner vient d'annoncer la publication le 24 septembre prochain d'un coffret de 55 CD consacré à la totalité des enregistrements réalisés par Wilhelm Furtwängler, non seulement pour le groupe EMI, mais également sous les labels Polydor, Telefunken, Decca et DGG.
La composition des 55 disques de cette compilation est donnée ici:
https://hdarchivesconcerts.fr/coffret-warner-55-cd-the-complete-wilhelm-furtwangler-on-record/
Une première analyse sur la base des renseignements publiés par Warner est publiée ici: 
Au sujet du Coffret « The Complete Wilhelm Furtwängler on Record »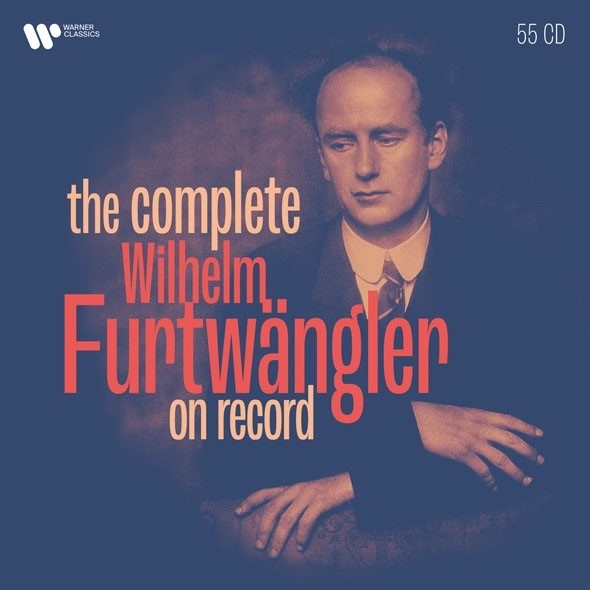 Warner has just announced the publication on September 24 of a 55 CD Album dedicated to all the recordings made by Wilhelm Furtwängler not only for the EMI group, but also for the other labels Polydor, Telefunken, Decca and DGG.
The track listing of the 55 CDs is presented here:
https://hdarchivesconcerts.fr/coffret-warner-55-cd-the-complete-wilhelm-furtwangler-on-record/
A primary analysis based on the documentation published by Warner is here:
Comments on « The Complete Wilhelm Furtwängler on Record »

London Kingsway Hall – 7 & 14 mai 1954
Source: Bande/Tape  19 cm/s / 7.5 ips HTB 402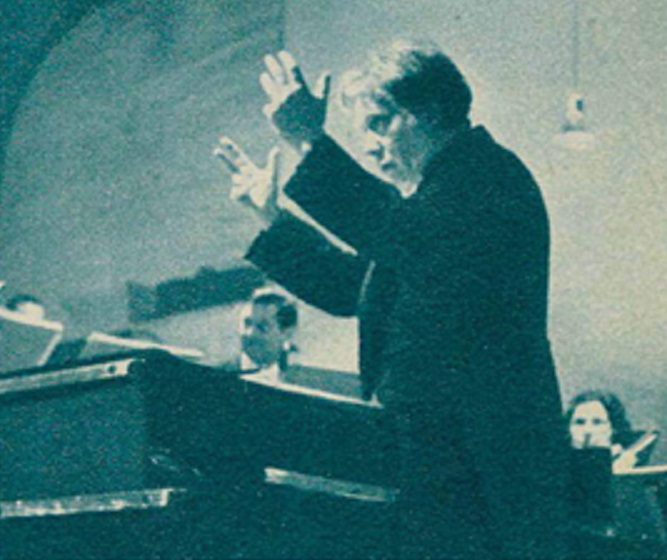 Ci-dessus: Fischer – Orchestre de Chambre de Lausanne (1948)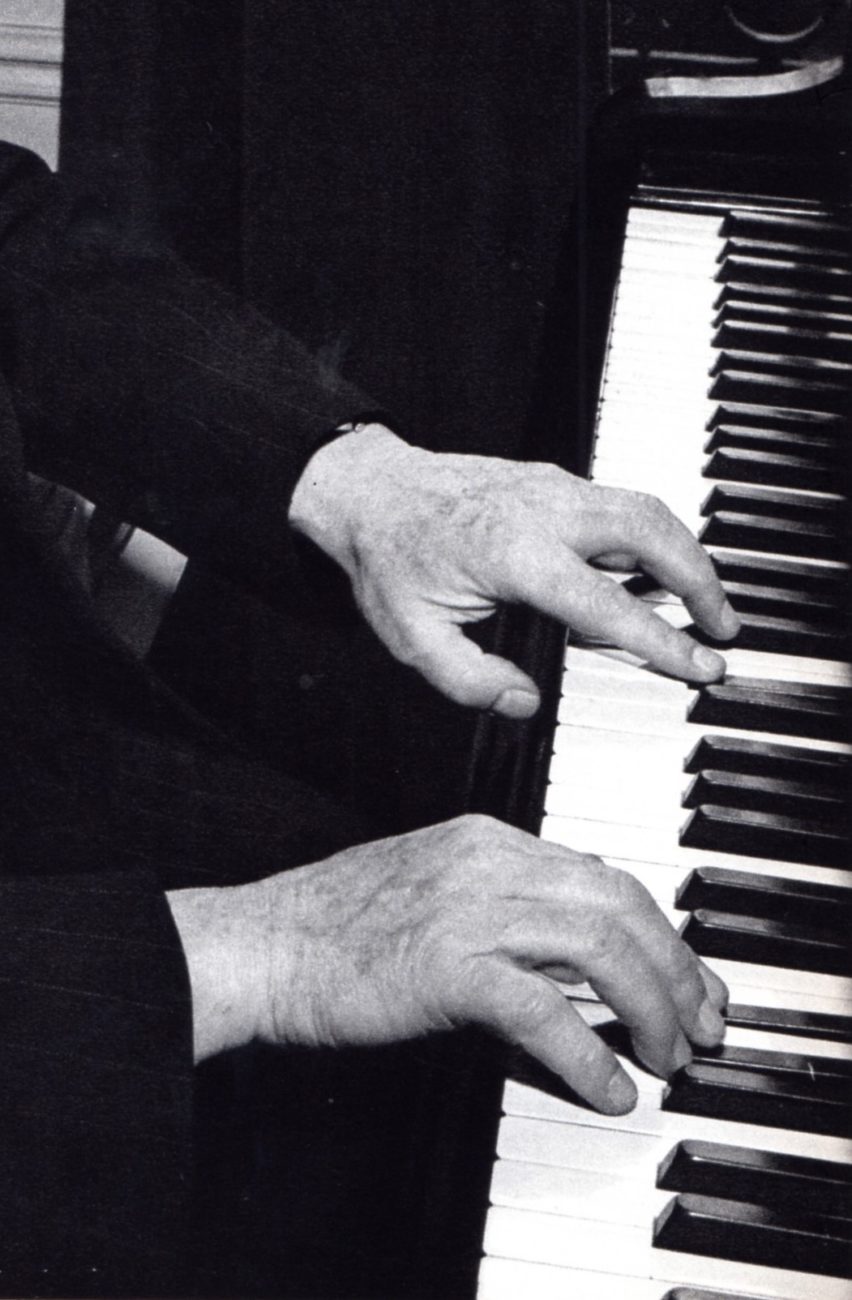 Entre les 3 et 20 mai 1954, Edwin Fischer a fait à Londres une importante série d'enregistrements, dont trois Concertos (Mozart Concerto n°20 K466, Beethoven Concertos n° 3 & 4). Seul, le Concerto n°3 Op. 37 a été publié sur bande (2 pistes 19cm/s, réf HTB 402). Il est également le seul de ses enregistrements londoniens à avoir été réalisé à Kingsway Hall, tous les autres ayant été captés dans les studios d'Abbey Road.
Fischer dirigeait habituellement du clavier les Concertos de Bach et de Mozart. C'était également le cas pour les Concertos n° 1 à 4 de Beethoven. Cette pratique n'était pas du tout systématique. En voici quelques exemples concernant le Concerto n°3. Il le dirigea avec son Orchestre de Chambre le 25 mars 1938 à Berlin, mais également à Paris au Théâtre des Champs-Élysées le 19 octobre 1953 à l'occasion d'une intégrale des Concertos avec piano de Beethoven (y compris le Triple Concerto) avec l'Orchestre de la Société des Concerts du Conservatoire (14 et 19 octobre 1953). Seul le Concerto n°5 était dirigé par un chef (Georges Tzipine). Par contre, ce même Concerto n° 3 était dirigé par Herbert von Karajan lors du concert donné le 10 août 1949 au Festival de Lucerne et par Alberto Erede à la RAI de Turin le 3 mars 1950.
Il n'est donc pas surprenant que Fischer soit mentionné comme chef pour cette prestation de studio avec le Philharmonia. Cependant, dans sa discographie, Roger Smithson apporte le commentaire suivant: « Toutes les éditions des Concertos 3 et 4 mentionnent Fischer comme étant le chef, jusqu'à RLS2900013 (1984) qui indique – sans explication – que Manoug Parikian, le « leader » du Philharmonia, »dirigeait  » les exécutions. Les archives d'EMI confirment qu'il a été engagé comme chef d'orchestre pour les séances d'enregistrement. Cependant, les éditions ultérieures en CD d'EMI continuent de mentionner Fischer en tant que chef. Gerald Kingsley, élève de Fischer présent lors de l'enregistrement du Concerto n°4, confirme que Fischer a dirigé l'œuvre d'un bout à l'autre depuis le piano. J'ai posé la question à Manoug Parikian peu avant son décès survenu en 1987, mais il ne se souvenait pas de ces séances et ses agendas n'ont pas permis d'apporter une clarification ».

Berlin Philharmonie 25 mars 1938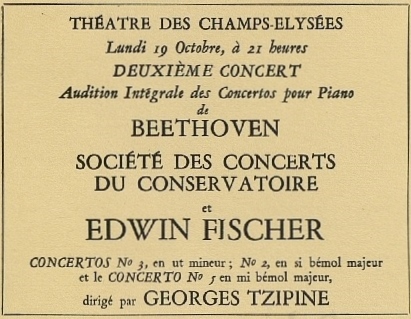 Théâtre des Champs-Elysées – 19 octobre 1953
Between May 3 and 20, 1954, Edwin Fischer made in London an important series of recordings, among them three Concertos (Mozart Concerto n°20 K466, Beethoven Concertos n° 3 & 4). Only the Concerto n°3 Op. 37 has been published on tape (2 tracks 7.5 ips, ref HTB 402). It is also the only one of his London recordings to have been made in Kingsway Hall, whereas all the other ones have been recorded in the Abbey Road studios.
Fischer usually conducted the Bach and Mozart Concertos from the keyboard. It was also the case for Beethoven's Concertos n° 1 to 4. This was not by far systematic. For example, as far as Concerto n°3 is concerned, he conducted it with his Chamber Orchestra on March 25, 1938 in Berlin, but also in Paris at the « Théâtre des Champs-Élysées » October, 19 1953 as part of a complete peformance of all of the Beethoven piano Concertos (including the Triple Concerto) with the « Orchestre de la Société des Concerts du Conservatoire » (October, 14 and 19 1953). Only the Concerto n°5 involved a conductor (Georges Tzipine). On the other hand, this same Concerto n° 3 was conducted by Herbert von Karajan during the concert given on August 10, 1949 at the Lucerne Festival and by Alberto Erede at the RAI Torino on March 3, 1950.
It is thus not surprising to see Fischer mentioned as conducting this studio performance with the Philharmonia. However, in his discography, Roger Smithson brings the following comment: "All issues of the Beethoven Concertos 3 and 4 identified Fischer as the conductor until RLS2900013 in 1984, which stated – without explanation – that Manoug Parikian, the leader of the Philharmonia, "directed" the performances. EMI archive documentation confirms that he was engaged as the conductor for the sessions. However, subsequent EMI CD issues credit Fischer as conductor. Fischer's student Gerald Kingsley, who was present at the recording of Concerto no 4, states that Fischer conducted this work from the keyboard throughout. I asked Manoug Parikian for his comments not long before his death in 1987, but he could not recall these sessions and his diaries provided no clarification."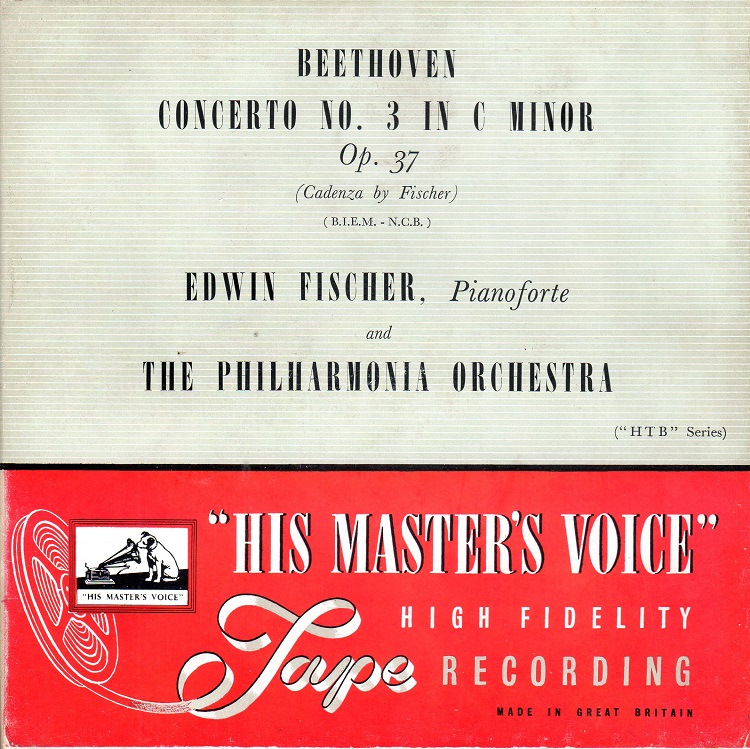 Les liens de téléchargement sont dans le premier commentaire. The download links are in the first comment.